Farm Diversification at WH Penbugle
Thursday, February 28, 2019 - 10:10
Cornwall … organic livestock … glamping … this sounds like a magical list of ingredients making up a tasty cocktail for a successful diversification project.
And for Wigwam® Holidays Penbugle, these formed the basic three factors for their farm's diversification over the last eight years.
Wigwam® Holidays Penbugle Organic Farm, which is close to the market town of Liskeard and the fishing communities of Looe and Polperro in South East Cornwall, have taken the glamping plunge on their organic farm, part of the Duchy of Cornwall Duloe Estate.
The glorious Cornish countryside, which has been captured in BBC TV's Poldark adaptations, is just one factor that encouraged John and Lizzie Ridout to diversify their farm to include bell tents, a campsite and spacious Big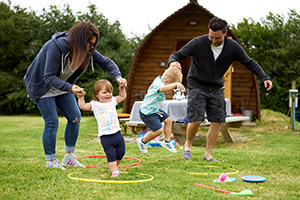 Chief Wigwam® Cabins, becoming part of the growing Wigwam® Holidays Franchise.
The couple have three grown-up children that help on the farm and were attracted to the Wigwam® Brand as a trusted glamping accommodation provider as the timber-built cabins reflected their dedication to organic farming.
The farm includes organic egg production and is home to the pedigree herd of Red Ruby Devon cattle. Polled Dorset and Lleyn sheep breeds form the ovine aspect of their farm, which is also home to four rare breed Dales Ponies. 
Lizzie said: "We moved from Dorset to Cornwall in 2005 to this 260-acre farm which did not, at the time, have glamping accommodation.
"We were already farming fully organic in Dorset so had to start the process again for two years and convert the farmland in Cornwall and as anyone who is already or is in the process of becoming organic, the process can be a lengthy one. 
"One of the biggest challenges was the paperwork; and we were supported by two certifying bodies, including the Organic Farmers and Growers and the Soil Association, both of which kept us on the straight and narrow."
This, coupled with up to 8,000 cheerful chucks laying the most delicious organic eggs, formed the backdrop that many of us would find an idyllic way of life. All that was needed was the accommodation and facilities to match.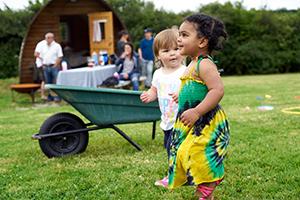 John said: "We're very passionate about what we do. We love farming and believe when it comes to making good food choices, information is the key. 
"We decided in 2012 to diversify into glamping accommodation, offering guests a quality stay at an affordable price.
"Our ethos is simple: diversification should be embraced as an opportunity to expand your existing business.
"For our site, it was just a 'no brainer' in terms of having a car free glamping area. We created a car park away from the accommodation paddocks and offered a fun way to transport your luggage from car to cabin, via wheelbarrows!
"The kids – and adults – love this fun aspect of our site, which sets the tone for their stay. Quiet, enjoying open spaces and a chance to unwind."
Their site also includes a Craft Studio, Create at Penbugle, which houses ceramic workshops during the high season.
The couple have also worked closely with the Cornwall Wildlife Trust to create a wetlands area.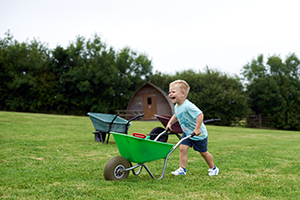 Lizzie continued: "Our decision to diversify was also influenced by our location: the world famous Eden Project, Lost Gardens of Heligan and Bodmin Moor are all within easy driving distance."
During 2019, as Brexit approaches, the couple have also got exciting plans for additional diversification projects, including dog etiquette classes. 
"Our site, which includes eight Big Chief Wigwam® Cabins, six bell tents and a small campsite, has made our business a fully developed enterprise, which we continue to invest in as time goes on."
https://www.wigwamholidays.com/penbugle-organic-farm