Billy Goat Series Brushcutter Mowers
Whether you're looking to tackle overgrow bushes and fields, needing to clear meadows or cut pathways quickly and easily, landowners and farmers will find the Billy Goat brushcutters are the answer.
With a choice of five machines in the range, these heavy-duty machines dramatically improve productivity and profitability, as they cut away and clear shrubbery effortlessly.
The BC2600HH and BC2600HEBH, have a 26"/ 66 cm wide pivoting deck with higher tip speed for improved speed and cut quality, no job is too tough.
Engineered to glide over uneven terrain, the pivoting brush deck hugs the ground for a better cut. This minimises scalping and improves traction by keeping the weight of the machine on its drive wheels.
Equipped with ergonomic controls, these brushcutter mowers are a perfect partner in the harshest environments and, thanks to its well-built design, these machines can cut saplings and brushes all at a rate of just under an acre of brush per hour.
The next machine in the line, the BC2600HHEU, offers all the great features of the BC Series with pivoting deck and variable Tuff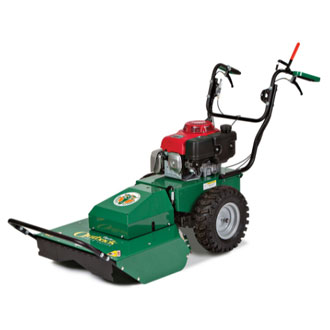 Torq hydrostatic transmission but it has lockable front caster wheels to help hold its position on hillsides. The swivelling front caster wheels allow the brush cutter more mobility when being turned and operators don't need to take their hands off the machine to change gears.
Finally, the BC2600HM and BC2600ICM, complete the range offering a 26"/ 66 cm wide fixed deck. This commercial-duty brush cutter mower provides excellent stability in deep vegetation and the mechanical transaxle, featuring three speeds forward and one reverse, is ideal for clearing meadows and fields or cutting paths and trails wherever dense brush and weeds present a clean-up challenge..
The heavy-duty blade spindle is reinforced on four sides to tackle the extreme cutting conditions, including thick brushes, grass and weeds over 180 cm tall, and saplings up to 5cm diameter.
Every brushcutter within the Billy Goat range is equipped with a heavy-duty blade spindle that's reinforced in four directions. Thanks to the maximum durability and safety, you can keep cutting in the harshest conditions. The fixed rear discharging deck also provides excellent stability in deep vegetation.
See for yourself how Billy Goat tackles really tough jobs at www.billygoat.co.uk.