Fishery recognises the scale of diversity projects possible
Wednesday, June 5, 2019 - 13:33
Former Christmas tree grower Martin Taylor explains to editor Victoria Galligan how his family farm diversified into providing accessible fishing and created an educational facility onsite for local youngsters...
Situated few miles outside Wigan, Fir Tree Fishery (soon to be renamed as Fir Tree CIC) has long been a haven for local anglers. The landscape was covered in the farm's namesake trees and every few years, November and December were times for harvesting while thefishery ticked along nicely supporting thefarm business.
Managing Director Martin says: "In 2010, we had just harvested a crop of trees, which grew on the land surrounding our original fishing lakes, and we thought: 'Do we want to wait another eight or nine years for another crop, or do we want to diversify?'
"We had run the commercial fishinglakes for a while and noticed that we weren't attracting any anglers with disabilities. So I began what became somewhat of a crusade!"
Martin with the support of organisations such as The British Disabled Angling Association (BDAA), Defra, Angling Trust and Environment Agency, created a facility that would allow people of all abilities to access angling on a large scale. There are ramps up to the water's edge for wheelchair users, and on the edge of the 40 "pegs" (mini jetties constructed from recycled plastic decking where people can fish from) are kickboards to ensure wheelchair users are safe and wide enough to allow for 1:1 angling coaching support.
Martin says, "At the start, we had lots of support from local charities who were bringing their service users with disabilities such as those who have suffered strokes as well as individuals who had suffered brain injuries to fish.But each angler brought with them a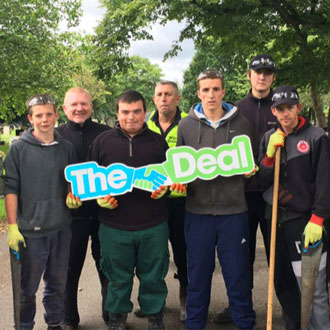 carer or a relative, and I had an idea.
"I had been approached before by the local Youth Offending Team about bringing in young people who had disengaged in school and education who needed to gain qualifications and employment ladder. So I thought, 'Whydon't they offer this low-level care whichour disabled anglers need, and we could link this to education outcomes such as supporting other in sport and activity leadership?'"
Martin created more lakes, improved road access and built timber classroom buildings. Now Fir Tree Fishery is a community interest company (CIC) which provides an accessible facility from which the elderly, particularly stroke survivors,can come to fish with assistance from young learners who have faced difficulty in gaining qualifications or employment.
Martin said: "It wasn't an easy route to go down – we had to do a lot of work with planners, developers and funders initially. We also had some resistance from neighbouring residents regarding the development and needed to address these.
"But now we're really giving back to the community. We have a number of tutors and specialist educators now and many of our trainees go straight into jobs, or into full-time education.
"We have a 77% success rate and thetrainees prepare not just for work, but for adulthood as well. We have a kitchen on site where they can prepare basic meals and wash clothes. They can carry out animal care and land-based activities, such as team-building games, too."
As well as working on-site the pupils – some of whom have autism, mental health issues and physical disabilities – go out into the local community to plant flowers, lay paths, carry out improvements and generally maintain parts of the surrounding villages.
Now Fir Tree Fishery CIC has been awarded funding from Wigan Council to create a poly tunnel to grow its own plants, which will further enhance the pupils' understanding of ground care and education/employment prospects. It's part of Wigan Council's 'The Deal for Business' programme and will see the pupils growing from seed the plants which they place in the local area. Funding has also come from private investment, DEFRA, Government funding agencies, Sport England, the EU Social Fund, and both the National Lottery and People's Postcode Lottery.
Martin said: "I would say to anyone who is planning to set up a CIC like this to just go for it. You'll need to seek the right advice and get the right permissions, but once you've got started you won't regret it. We're very proud of our learners."