A unique range of glamping units inspired by the natural beauty of the Welsh landscape
Monday, October 14, 2019 - 10:00
MWD Makers has recently unveiled a new and unique range of architect-designed highly insulated micro units that can be used as glamping pods or additional living accommodation. These designs offer the opportunity to escape the pressures of the modern world and access a simpler and slower pace of life closer to nature.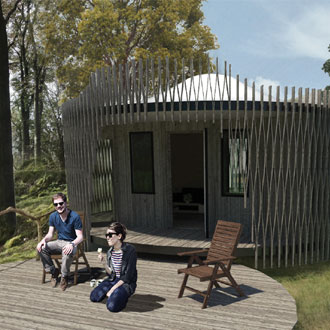 People are more than ever in need of rediscovering physicality and a sense of place, and this is something that closer contact with nature can provide. MWD Makers design simple living spaces that satisfy people's cravings to reconnect with the wild. MWD Makers take pleasure in the handmade, the use of local, natural materials and the enjoyment of simple things, believing that real luxury derives from the ability to live in harmony with one's environment.
The company's products are conceived and designed by Mark Waghorn, an award-winning architect with an established reputation for environmentally sensitive design. MWD Makers can deal with the unique aspects of each project including applying for planning approval. Fully bespoke designs can also be provided. 
The company has recently launched the Helygen® glamping unit. The structure sits softly on any landscape, with minimum disruption of the site during assembly. Floor to ceiling windows are wrapped around the structure allowing natural light to flood the interiors. Light shines through the external cladding creating vivid shadows, interesting shapes and highlighting the natural qualities and textures of the interior finishes. The standard design is comprised of a highly insulated core, which provides accommodation as a living room/bedroom, surrounded by fully integrated and self-contained kitchen and bathroom. A boot room is located off the entrance, and an external veranda overlooks a deck for outdoor living and dining. 
Helygen® is suitable either as a guest room in any private garden, or as accommodation for guests on glamping and camping sites or holiday parks.