Your go-to guide for choosing the perfect wellies
There are few things quite as useful in our lives than having a good pair of wellies for farming, walking dogs, gardening or simply splashing in puddles with the children. The winter weather has well and truly arrived which means now is the time to invest in a pair of good quality wellies. Whether you require a boot to keep you warm or one which can trudge through fields in this winter, Town & Country has a pair for you!
The Bosworth Wellington Boot – perfect if you want a splash of colour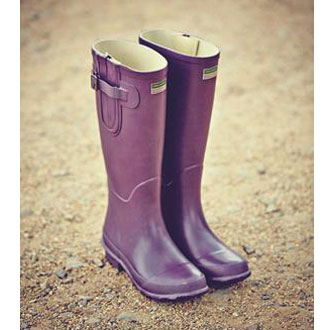 If you're looking for a wellie boot that stands out this winter, then this is the one for you! The Bosworth is a traditional length boot with a cushioned insole to give that extra bit of comfort. Made from natural rubber, these boots are comfortable to wear and have an adjustable strap for a secure fit. The contoured design features reinforced seams for strength and a steel shank for added support. Thanks to the natural rubber, these boots are bendy yet lightweight allowing you to move with ease. This style is available in Green (UK sizes 4 – 11), Navy (UK sizes 3 – 12) and Aubergine (shown in image) (UK sizes 4 – 8).  RRP £49.99.
The Bradgate Short Boots – perfect to keep your look short and sweet
If you prefer a shorter boot with a traditional design, then the Bradgate is the ideal choice! These natural rubber boots come with a cushioned insole, are lined for comfort and have a steel shank for added support. These boots are also suitable for wider calf fitting requirements – so no need to wrestle to get them on and off. This style is available in Navy (UK sizes 4-9), Green (shown in image - UK sizes 4-9) and Aubergine (UK sizes 4-9). RRP £39.99.
The Burford Wellington Boot – perfectly lightweight
When you need to protect your feet from light rainfall but don't want to be bogged down with heavy-duty wellies, look no further! These simple yet elegant lightweight PVC wellington boots have a contoured design keeping style in mind, but they are also fully lined to give you added comfort. The light and flexible rubber lends itself to being packed into a rucksack or worn for a whole weekend at a festival this summer.
The tread also provides great grip for underfoot security on all surfaces. This boot is avaliable in Navy (UK sizes 4-12). RRP £27.99
The Chelsea Boot – perfect for stepping out in style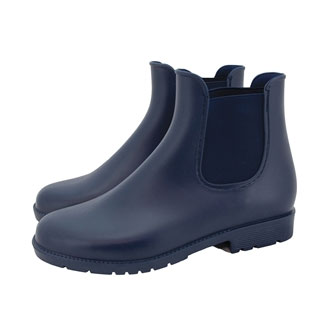 If you are looking to make a fashion statement but don't want to pay the hefty price tag with it choose the Town & Country Chelsea Boot instead! These contemporary boots are easy to slip on with a stretchy gusset and feature a comfortable liner. The lightweight PVC material is waterproof, and they are ideal for everyday use yet still provide protection when needed. This style is available in Navy (UK sizes 4-8). RRP £22.99.
The Originals Full Length Wellington Boot – perfect for keeping things simple
This boot is designed with simplicity in mind. No fancy designs, no hassle, these are 100% waterproof and have reinforced seams to guarantee added strength – all for a low price! Whether you are working in the garden, or ploughing through muddy fields, these boots help to make the most difficult of tasks easy! This style comes in Green (UK sizes 3-12) RRP £14.99
Kids Wellington Boots – perfect for the little ones
If your child is ready for some new colourful wellington boots – treat them to a Town & Country pair! These colourful PVC boots have a cushioned sole and are lined to provide that extra bit of comfort for your children's growing feet. Featuring reinforced seams to provide strength and durability, these wellies are perfect for splashing in every puddle! These practical boots are available in in pink, navy, orange and blue (UK sizes 11-2). RRP £9.99.
Town & Country is recognised as one of the UK's leading gardening brands and offers a comprehensive collection of gardening gloves and footwear for men, women and children. To view the full range, please visit www.townandco.com