Sustainability and quality can go hand in hand
Monday, September 2, 2019 - 15:15
Dynamic female strawberry grower proves sustainability and quality can go hand in hand when it comes to fruit production.
With increasing pressure from consumers for low environmental impact, premium quality fresh ingredients, Yorkshire Strawberry grower, Annabel Makin - Jones, has been striving to produce sustainable yet excellent quality fruit for the British market from her family farm. Over the past 15 years she has been refining the process to ensure the carbon footprint of the strawberries is as low as possible whilst still providing the best possible berries. Her new ecofriendly brand is not only sold in 100% biodegradeable packaging but the Princes Trust benefit from the sale of every punnet.
Annabel believes in a truly sustainable approach to farming and has processes in place to reduce waste at every opportunity. All of the water requirements for the crop come from a 25 million gallon lake located on the farm, they generate their electricity from solar panels and strawberries that don't meet the premium specification are used as an ingredient or for processing in British cottage industry such as jams and chutneys. The team are constantly reviewing the use of pesticides and reducing their use wherever possible. They favour the use of biological pest control, thereby reducing the amount of pesticides used.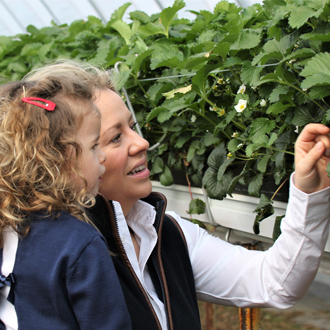 Annabel's Deliciously British strawberries are available to the restaurant trade through selected wholesalers but also accessible to consumers from both Ocado and Booths. Annabel comments "When I developed the brand, I was sure I wanted not only to supply the best professional kitchens but also to consumers, just like my family. Those who hold provenance and sustainability as priorities when shopping for their families." 
The fruit has been awarded Red Tractor Assurance, LEAF accreditation and A* BRC certification, all demonstrations of the high standards held at Annabel's farm. As well as running the enterprise, Annabel keeps a close eye on quality to ensure the standards are upheld throughout the growing season. With chefs such as Laurence Henry, Andrew Pern & Tom Aikens backing both the product and Annabel's values, a more sustainable future for fruit farming is bright.