Tuesday, March 26, 2019 - 11:36
With their fourth anniversary on the horizon, Wigwam® Holidays Crowtree is one of the success stories for Wigwam® Holidays, the nationwide glamping accommodation provider. 
The site, based near Spalding, South Lincolnshire, opened with six Running Water Deluxe Wigwam® Cabins in July 2015.
Owned and run by Patrick and Anne Mews, the site is home to a working farm including cattle and faithful farm dog, Bella.
Their beautiful site is close to the River Welland and is THE place to switch off, relax and lose oneself in this rural location.
Co-owner Patrick said: "It is hard to believe it's nearly four years since we opened! Time has flown by.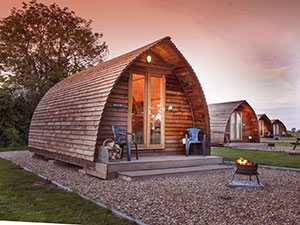 "Like many in the farming sector, making money just from the farm has become a real challenge in recent years. 
"Farmers were encouraged to diversify and we jumped at the chance after we had experienced a Wigwam® Cabin at an agricultural show.
"We opened with six Running Water Deluxe Cabins, which we placed in a three-acre paddock studded with mature trees. The result is there is huge amounts of space for games of rounders, cricket  … or simply to hide away from the hustle and bustle of life!"
The couple welcome four-legged family members to their site that also has a grass tennis court and a croquet court for hire.
Cycle hire is available for anyone that wants to pedal their way around the stunning yet flat countryside.
The site lends itself perfectly to family gatherings or group bookings, as it also includes The Den, a small communal area with table tennis, snooker and board games.  
Patrick and Anne have also kept the agricultural theme with some 'natural' names for their cabins including Mole's Mansion among many others!
In March 2017, thanks to local LEADER Funding and a successful first two years of trading, the site added an additional three Wigwams® to its portfolio of accommodation and a hot tub facility to one of the cabins.
As Wigwam ® Holidays Crowtree earned an excellent reputation for group gatherings, the couple looked towards an innovative means of capitalising on this unique selling point … enter Wild At Heart Tipis!
Anne explained: "The wedding or special venue market in the UK is a huge business and as we are so blessed with space here at Crowtree, we knew we had to offer our guests something in addition to the cabins, which in effect sell themselves once a guest has experienced them.
"We researched the idea of offering a quirky, undercover facility that tied in with the existing Wigwam® Cabins.
"We discovered Wild at Heart Tipis, who cover the Lincolnshire area and further afield, and were immediately attracted to their tipis, which offered a rustic yet elegant option for that special celebration. The tipis were a perfect match for our nine cabins, as it means the celebration and the accommodation are all in one place."
Wigwam® Holidays Crowtree is close to various attractions, pubs and activities so guests can explore the area with ease.
Patrick and Anne show no sign of cutting back on improvements as the 2019 season will get hot around the collar with the arrival of a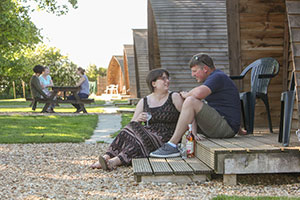 barrel-shaped sauna, a perfect match for the hot tub facilities.
Patrick said: "Farm diversification can seem daunting and overwhelming.
"The key to avoiding this is to find the right product. As a nationwide brand, Wigwam® Holidays was a tried and tested company and we liked the quality of the cabins, plus the support that came with them.
"There is no doubt about the hard work involved. However, you can reap the rewards and it is a very satisfying way of diversifying your farming business."
https://www.wigwamholidays.com/crowtree