Resilience and adaptability: how the nation's farmers are diversifying
Sunday, February 10, 2019 - 22:07
Farm diversification isn't a new trend; resilience and adaptability have always been essential for farming businesses to survive and thrive. Over 60% of UK farms have diversified, according to Defra's Farm Business Survey 2016/17.
NFU Mutual spoke to over 200 farmers from across the UK who have already taken the leap and already diversified from farming, or are considering their future business direction, to find out how and why.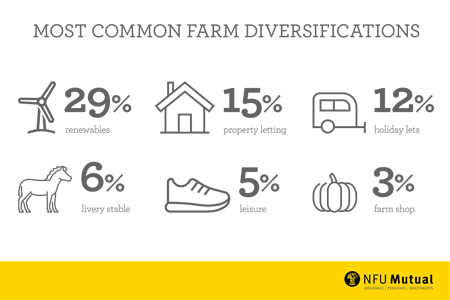 But first, what do we mean by diversification? Using your farm's assets, such as its land, buildings or machinery, to develop a new business activity beyond farming. This venture usually sets out to provide additional income, and can complement the agricultural activity or, over time, replace it.
Jim McLaren, NFU Mutual Board Director, said: "With declining direct support for many farms on the horizon, it's essential to examine the opportunities available from diversified income streams. These will obviously be very varied, depending on factors such as location, access to customers, availability of redundant or adaptable buildings and, probably most importantly, the interests, readiness and skills available within the family or the workforce."
Of farms that have already diversified, 63% see their diversification to be either 'vital' or 'significant' to the financial viability of the farm, with over 90% stating their diversification has been financially successful – certainly a positive sign for farmers considering making the move to a new venture.
But what about the farms that haven't yet diversified? Many are considering it, with 19% of farmers saying they will 'definitely' or 'probably' diversify in the future. Top choices for new business ventures include caravan or camping site (27%), other holiday accommodation (20%) and renewable energy (20%). 66% of those planning to diversify would like to do so within the next three years.
It's encouraging to see farmers across the UK taking steps to futureproof their businesses and keeping up with demand for services; it's a positive sign for the future of the sector. As the UK's leading rural insurer, NFU Mutual is well placed to support farm entrepreneurs at whatever stage they are with their business ventures. Contact your local branch – you can find contact details at www.nfumutual.co.uk/branches/.
To read the full diversification report and for key considerations for those looking to diversify, visit www.nfumutual.co.uk/farming/farming-diversification/.