Personal, Professional Finance for Farmers Looking to Diversify

Thursday, May 19, 2022 - 11:51
As it becomes increasingly difficult to make a living purely from agriculture, Portman is helping farmers and landowners to secure funding and fuel their growth in other directions. Whether you are looking to build holiday lets, install green energy farms, set-up an activity centre or even build a crypto-mining warehouse, Portman can support your ambition.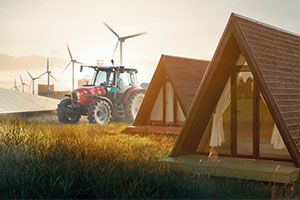 As subsidies from the Basic Payment Scheme are gradually reduced and Brexit red tape takes hold alongside today's supply chain disruption, diversification is becoming key. The NFU reports that over 60% of members are currently investing in an alternative income source and 40% of are investing in some form of renewable energy generation to reduce costs.
At Portman we enable our customers to grow and capture opportunities, giving them the power to invest and achieve business goals. We understand the pressures of working in the agricultural sector and provide funding options covering everything from renewables, livestock, equestrian, vehicles and property to better utilise land or sites.
If you are looking to start your diversification project and take your land in a new direction or simply boost yields and reduce long-term costs by investing in the latest, most efficient equipment, call today to see how Portman can help your business.
Portman was established in 2007, providing agricultural businesses and SMEs with access to a range of finance options. As both a broker and lender, we have now arranged close to £1billion in funding for over 10,000 companies. We are helping landowners unlock their potential, capture opportunities, or spread the cost of vital new equipment.
Like you, we value that personal touch so there's no complex call centre or different departments to deal with, a dedicated Account Manager will understand your needs then find the right deal, whether that be through ourselves or a lending partner. This personal approach combined with individual finance solutions has earned us an 'Excellent' 4.9 Trustpilot rating.
Find out how we can help finance your goals by calling today.
Call: 01604 669352