How partnering with Further Space can help you get onto the glamping market
Wednesday, May 18, 2022 - 09:14
Further Space brings a unique business model to the glamping market, working with landowners to create micro-tourism partnerships. Pods are provided at zero cost so partners only need to invest in their site works. This gives them a significantly lower cost method to entry, with far lower financial risk profile. Full support with site layout, design, architectural services and the planning process is also provided.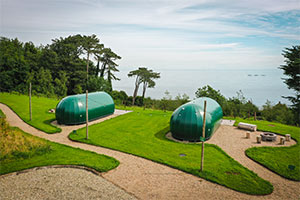 Once the site is open Further Space manages the entire customer acquisition process including TV, radio, press and digital/social media advertising. It provides a booking system, payment processing and customer service. This means that all a landowner needs to do is focus on the customer experience once guests arrive on site.
As a partner you are connecting with a brand currently building a network of sites across Ireland and the United Kingdom. You benefit from a level of marketing spend and promotion that would be difficult to justify individually and you receive a dedicated partner relationship manager to support you. You also benefit from a growing base of existing loyal customers keen to experience more Further Space glamping in new and unique locations.
Partner feedback: Adrian Morrow, Estate Manager, said: "The pods have been a fantastic accommodation solution on our estate, bringing steady trade throughout the year and opening up a self-contained and easy way to stay with us. The partnership with Further Space has also supported us as we continue to diversify, even through challenging times, creating employment locally and bringing in more tourists to the area who are exploring and spending locally."
Find out how you get onto the glamping market
Further Space currently has 8 live sites; two of which are in Scotland; Cardross Estate in Stirlingshire and Hillhead Farm just outside Dumfries.  By the end 2022 this will have increased to 20 live sites with 5 in Scotland.  If you are interested in finding out more visit www.further.space/partners or email: partners@further.space