Lotus Belle | Luxury in the Wild
Friday, February 7, 2020 - 10:46
Lotus Belle was founded by British designer Hari Seddon in 2012, with the desire to create a tent as portable and easy to set up as a bell tent with the spacious comfort of a yurt. It's been one of the most popular choices for glamping sites throughout the world ever since. 
The 5m model has a very roomy 18sqm of standing space, with 1.8m of headroom throughout the tent. This means you can furnish with full sized beds and furniture, giving this tent the feeling of a luxury hotel room. As well as that, it's a breeze to pitch, a one-person job in under half an hour. For the fraction of the cost of a Shepard's Hut, you can pull in between £70-150 a night, because there's no denying the Lotus Belle, with its simple clean lines and unique shape is a beautiful structure. It's come to be the very essence of boutique camping, defining the Glamping movement. It photographs so well, making it an easy draw for bookings and great content for your social media presence. It really does sell itself. Our customers often tell us that their Lotus Belles pay for themselves within the first season. So, if you're new to glamping they're a safe and easy to manage choice. 
Glamping sites throughout the UK most commonly opt for the 5m Lotus Belle. It's got plenty of space for a double bed, as well as a couple of singles, making it a great option for families. The 4m size is the perfect couples retreat, whilst our 6m tent is just huge, fantastic for larger families and groups. 
You can even extend your glamping season with our beautiful quilted linings that keep the tent cosy and warm even as the nights start to draw in. Wood burners are easy to install in the tents, so there's no reason why your Lotus Belle can't still be a source of income outside the usual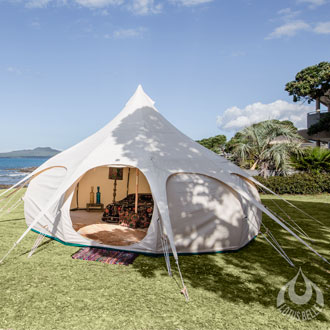 glamping months. 
The technical bits...
-made with 360gsm canvas so it 'breathes' staying cool in summer. 
-naturally the material has all the latest water, rot and fire-retardant treatments.
-includes a 'bathtub' style groundsheet, curving up 4" all round the edge keeping it super dry, even in a water-logged field.
-packs down into a bag 130cm x 40cm x 40cm (5m model)
We are always happy to chat tents, give us a call 0117 382 3047.
Or drop us a line: 
info@lotusbelle.co.uk / alex@lotusbelle.co.uk
www.lotusbelle.co.uk
Find us on social media:
Instagram: lotusbelletentsuk  
Facebook: Lotus Belle Tents UK