SoulPad Ltd - luxurious bell tent manufacturer
Wednesday, March 11, 2020 - 11:59
SoulPad Ltd are a Norfolk based, luxurious bell tent manufacturer. Since 2007 they have been helping Farmers in their local community (and further-a-field) to turn their hand to Glamping.
At the core of their values, SoulPad believes that being outdoors should be a luxurious and comfortable experience. Director; Zoe Vanderstay says; "Farmers are reporting higher yields from their dedicated Glamping areas than most crops!" With such a low initial outlay, and a high return on the initial investment, it's clear to see how this can be. Glamping is a well-established boom industry that is buoyed by the rise of the Staycation (a blend of two words - 'stay' and 'vacation'). Zoe tells us "more and more people are giving up their regular holiday abroad to experience a summer holiday in Britain instead. Quality time with the family is high on most people's agenda, and Glamping offers a wholesome experience to those used to a bit of luxury."
Whilst the Glampers expectation is generally higher than the average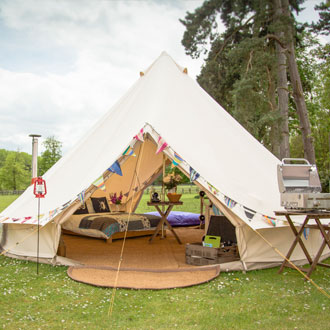 camper's (think proper beds with pillows and duvets, a flushing toilet and a hot shower), they are just as easily wowed by the experience. Working farms can offer the average city dweller a unique, back-to-basics experience. Director; Mark Vanderstay says "it's a wonderful thing, to be involved with new projects and to see them flourish. Almost all of our glamping start-ups will return for more stock as demand dictates.
Glamping is a boom industry and it's a real pleasure to help our business customers grow at the right pace. We're much more than just a supplier - we offer a full range of support including free promotion and advertising." Case Study: Gorsey Meadow, Norfolk It was 2014 when SoulPad first met with Sam from Gorsey Meadow Glamping. Sam was hoping to turn a disused meadow into an off-grid glampsite. Nowadays Gorsey Meadow is a thriving glampsite with repeat customers returning year on year. Sam says the glampsite "compliments their livery, vineyard and working farm.
The shower in the shed is an endearing feature that is much talked about!" Gorsey Meadow chose SoulPad because they are "quick to respond and extra SoulPads can be supplied at short notice. They are friendly and keen to help. SoulPad has a great reputation within the sector. You can start small and add additional units once demand (and cash flow) grows. The set-up costs are low, so the risk is low too." Sam uses a full range of SoulPad tents and accessories and continues to enjoy favourable discounts on any stock replenishments that are required.
Testimonials
SoulPad has acquired a mass of positive reviews for their products over the years, with most commenting on the high quality, luxuriousness and value for money. Among their customers are Naturalist, Photographer, TV presenter & Author; Chris Packham, BBC DJ, Broadcaster & Presenter; Sara Cox, Comedian, Actor, Radio Host, Author & Activist; Russell Brand, Travel Writer; Jonathan Knight and TV Presenter & Writer; Dan Snow. Dan says: "The SoulPad was lovely and shady in the heat, other people were sweating in their smaller nylon tents! It's been up in the garden all summer. Kids love it. We might even risk a winter camping trip as the evenings close in..."