Colchester-based HOSPLANT Sales stocks Kubota farm machinery
Kubota UK, a leading provider of groundcare, farm machinery and construction machinery, has announced it is set to introduce the supply of agriculture tractors and equipment to Colchester-based supplier HOSPLANT Sales.
HOSPLANT Sales, an exclusive Kubota dealership based in Peldon, near Colchester, was founded 15 years ago by Gary Mold and Adrian Mays who have more than 40 years' combined experience selling construction and agricultural equipment throughout Essex, Suffolk and Norfolk. The dealership stocks the Kubota KX and the Kubota U Series of tracked excavators, and has now expanded its range to include the Kubota RTV range of utility vehicles and the L and M series of tractors up to 170hp.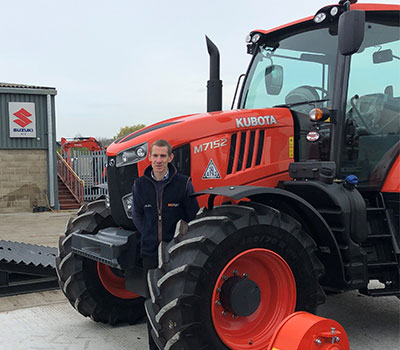 As part of this expansion Aaron Graves has joined HOSPLANT Sales as a partner to improve on the dealer's agricultural offerings and provide enhanced product support to its customers. Aaron brings over eight years' experience in selling agricultural machinery from his previous roles.
Adrian Mays, Managing Director, HOSPLANT, explained: "Over the years Kubota has always delivered for HOSPLANT Sales and supplied the range of construction machinery our customers demand for their day to day needs.
"The company looks after us, and its range of machinery equipment is large enough for us to know that we have the right solutions for our customers. We look forward to expanding our range to include farm machinery and will showcase our latest range of Kubota equipment as a sponsor at the Essex Young Farmers Show at Boyton Hall on the 19th May." 
Rob Edwards, business development manager, Agriculture, Kubota UK, added: "The team at HOSPLANT Sales are committed to providing high-quality machinery and brilliant customer service to farmers and the construction industry in this key area, so the company is a perfect fit for our expanding dealer network.
"We are excited HOSPLANT Sales is now expanding to take on the range of Kubota tractors and farm machinery, as well as continuing to sell our market leading range of excavators, and we look forward to working closely with Aaron as he settles into the team. It is a business with a natural drive for success, and we are proud to be able to support them with our latest range of Kubota agricultural and construction machinery."
For more information on Kubota farm machinery, see Kubota UK,