Herefordshire Fruit Farming Friends Launch New Spirits Brand
Two Herefordshire fruit farmers have launched a new drinks brand, Penrhos Spirits, with the release of two hand-crafted gins that celebrate their farming and fruit-growing heritage. The two families have been farming at Penrhos near Kington, Herefordshire, for generations and so it was only natural to name the new brand in its honour.  
Lifelong friends, Charles Turner and Richard Williams, had been looking to work on a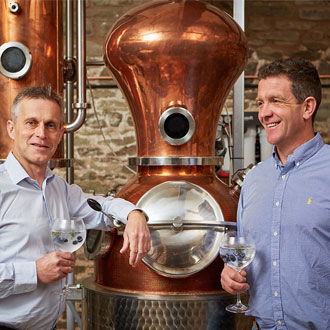 new diversification project together and with a love of gin themselves the two set out to create a truly authentic gin using traditional copper pot distillation. 
Both families are passionate about the idyllic Herefordshire countryside and wanted to create a gin that reflected the land and environment that surrounds them. Each of their recipes focuses on sourcing from their own farms, producing an essence of this beautiful countryside.
What used to be a disused barn on the farm is now the thriving distillery with its magnificent copper pot still. A truly successful diversification project that the families hope will be embraced by their children in years to come.
The brand has launched its London Dry, a classic recipe, infused with the farm's own-grown blueberries and a seasonal Rhubarb gin which creates a sweet and tangy explosion on the palate. Richard and Charles are already looking at developing other seasonal recipes and are hoping to expand their spirits range over the next 12 months.
Richard comments, "It was important for us to distil the fruits of our farm into our gin and that is what we have achieved. Our gins reflect our land our home and everything that we love about it. We have been fruit farmers for a long time and to have the chance to make something so enjoyable from our fruit is a dream come true. We have been delighted by the response we have had and can see why the gin category is undergoing such a period of growth. People appreciate the passion behind it and love the fact that it can all be traced back to the farmer."
Penrhos Gin is available to buy online www.penrhosspirits.co.uk and will be available through Independent stockists nationwide in 2019.