Glamping and Golf in Scotland
If sandy beaches, real ales and one of the world's best-known golf courses close by sounds like your type of holiday, then you only have to wait until 1st June for the grand opening of Wigwam® Holidays Largo Law.
Based in the East Neuk of Fife, six en-suite glamping cabins nestle on this working farm just 11 miles from St Andrews.

 
Owned by Ron and Sheilann Smith, the couple have diversified their working farm to include glamping accommodation in this stunning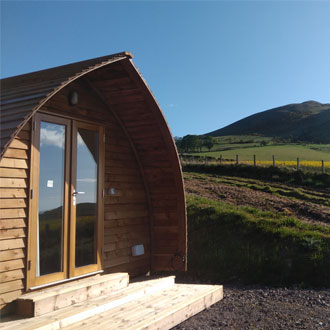 part of Scotland bringing brand new glamping options to the region.
 Co-owner Ron said: "We are delighted to be part of one of the country's leading glamping accommodation providers, Wigwam® Holidays.
 "Our six cabins are a perfect fit for our surroundings, two of which are dog friendly.
"Other attractions close to our site include the Standing Stones of Lundin that date back to the Bronze Age, Fife Heritage Railway and the Woodland Trust's Keil's Den, an area of ancient woodland which includes picnic benches for some outdoor eating."
The Running Water Deluxe Wigwam® Cabins, which are made in Perth, Scotland, command views across the majestic Firth of Forth with easy access to the Lothians and Fife.
 Prices start at £80 per night based on up to four adults sharing one deluxe cabin.