Tithe Barn supply high quality parts, Plans and a Step by Step Guide for building bespoke shepherd huts.
Tithe Barn started building beautiful, bespoke shepherd's huts in 2011 and this was the main focus of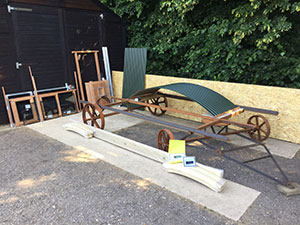 our business for several years. However, we diversified into the selling of parts having invested in patterns for our own British cast iron wheels. Building a shepherd's hut is not rocket science and we very quickly realised two markets were emerging – customers who wanted a hut built for them and those who wanted the satisfaction of building their own. Working closely with a few carefully selected suppliers, we gradually developed our range of products, all specifically designed for shepherd's huts, to create the unique "one stop shop" that we offer today!
In 2018 we developed our Structural Plans and Comprehensive Step by Step Guide to Building a Shepherd's Hut and have now also put together complete bundles of products for a variety of sizes.
We don't sell a "flat pack kit", we supply all the high quality components that are required to build a beautiful, bespoke hut that suits your requirements and location.
With the growing popularity of all types of Glamping and with Farmers' ever growing need to diversify, our bundles offer a very cost effective entry into the lucrative Glamping Market, saving up to 50% of the cost of having a shepherd's hut built for you. 
Find out more about Tithe Barn here.