Two Farmers Crisps Launch The UK's First 100% Compostable Crisp Range
Saturday, March 23, 2019 - 10:14
A new crisp brand, Two Farmers, is offering consumers a plastic and waste-free solution in 2019 with a delicious artisan range of crisps in a 100% compostable packet. The packets are a  first of their kind for the UK crisp market and will biodegrade in just 26 weeks in a home-composting unit.
The crisp range includes four flavours:

Hereford Bullshot- Gently seasoned with spices and the delicious flavour of Hereford Beef- GF
Salt & Two Farmers Cider Vinegar- Lightly salted and flavoured with Two Farmers own cider vinegar, made from apples grown in their Herefordshire orchards - Vegan-friendly & GF
Lightly Salted- Lightly seasoned with Droitwich Salt, which is harvested by hand from natural springs and crystallised using renewable energy - vegan-friendly & GF

Hereford Hop Cheese & Onion- Seasoned with deliciously sharp and sweet Hereford Hop cheese, made by artisan cheesemakers Charles Martell & Sons, and onions grown on Two Farmers' Herefordshire farm - Vegetarian & GF

The ethically-minded brand is the brainchild of Herefordshire farmers, and longtime friends, Mark Green and Sean Mason. Second generation potato farmer, Mark and Sean decided to develop their own range of hand-cooked crisps that celebrates local ingredients whilst causing minimal impact to the environment.

Sean comments, "As farmers living and working in the beautiful Herefordshire countryside we have seen firsthand the impact plastic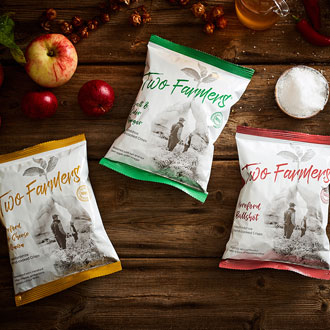 waste can have on the environment. We want to offer a real solution to waste and a compostable bag does just that, our packets return to the earth in just 26 weeks."

The founders have high aspirations for this challenger brand and with public sentiment embracing the reduction of plastic in everyday uses, Two Farmers hopes to provide a sustainable crisp packet option that consumers will welcome.
The range is available in individual 40g bags, with a 150g sharing bag launching in early 2019.
The Two Farmers Crisps range is currently available at independent retailers nationwide, including Wholefoods Jan 2019 and direct at www.twofarmers.co.uk , 40g packet RRP £1.10