Introducing A & A Livestock's Abbie - our new columnist
Tuesday, March 1, 2022 - 13:59
My name is Abbie (27) and together with my partner Andy (25) we makeup A & A Livestock. We are two young first-generation farmers, neither of us is from a farming family or background. Rewind three and a bit years ago, I was working with children not a career choice I was enjoying. I (Abbie) got the bug for farming when I was 5 years old. My grandad would take us on family holidays around Britain and he would bribe farmers to let us stay on their land for cheap. We would holiday often, so I inadvertently grew up around farms and animals. I was cooked! However, no one from my family farmed, I grew up in a concrete jungle in Chelmsford, Essex, we didn't even know any farmers. So, when it came to picking a college course instead of doing an agricultural course, I panicked and did my plan B, childcare. I did this for 5 years, but I was miserable. I knew it was not where I wanted to be. But I had no idea how to get into agriculture. I then met Andy!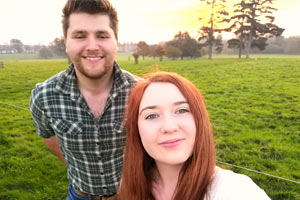 Andy got his love of farming from his Nan and great Grandad who was a herdsman. His Nan worked with the cattle also, she would show him pictures of the cattle and tell him stories. This made Andy want to be a farmer. Although once married his Nan stopped working with the cattle and Andy's parents are not famers or in the agricultural industry. He went on to do an agricultural course and then worked on farms. He is now a herdsman himself as well as running our business. Andy was brave enough to find some land to rent after a lot of searching and then he bought himself some cattle.
How did we meet?
We met the way every fairy-tale starts, on a dating app. I saw he had cattle in his profile picture so of course I swiped right! On our first date we realised that neither of us was from a farming family yet we both had the same dream! To one day have our own farm. After a few months of dating, I said why don't we go for it? Andy had already found a small bit of land to rent and had a small herd of 5 cattle. We then expanded our cattle numbers with more native breeds and bought some Wiltshire horn sheep which are a shedding breed. We then became certified to sell our grass reared beef and lamb to the public.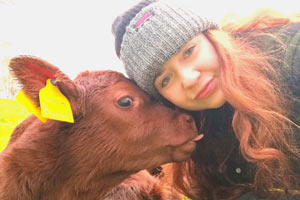 We farm using regenerative agricultural practices, working with nature not against it. We do not use any chemicals on our animals unless necessary for their welfare as that is always our top priority. We now have more land to rent, over 150 acres and growing. After a lot of searching, we've now found somewhere to live together in a beautiful cottage with outbuildings and surrounding paddocks. We'll be getting cade lambs this weekend; we'll also be going into chicken production as well and soon to get 30 steers to run! What could go wrong? Living together for the first time and running a business! We'd love you to follow our journey!
You can follow our adventures on Instagram a_and_a_livestock or on Facebook A & A Livestock.
Tip of the month,
'Be the person you needed when you were younger' this quote from Ayesha Siddiqi always resonates with me because if a woman in her 20s not from a farming family had told me I could be a farmer to when I was a little girl, I think I would have had the confidence to go for my dream a lot earlier in my life.