FARMING DATES FOR YOUR DIARY
Whether it's a trade show, conference or country show, we've highlighted some of the biggest farming events in the calendar which will help you develop rural diversity projects…
The Glamping Show
19-21 September
NEAC, Stoneleigh Park, Warwickshire
This event aims to connect the glamping business community, offering answers on how to build sustainable revenue and scale up your business. Exhibitors range from suppliers of accommodation (think shepherds huts, pods etc) to services like bookings management software.
RICS Rural Conference
16 October 2019
Hexham (more RICS events are held throughout the year)
A key discussion for this year will be on one of the government's proposals – Public money for public goods – and how this new mechanism for land management would work in practice. Other sessions will include crucial legal updates such as the Electronic Communications Code and implications for landowners and mobile operators, rural planning and an update on permitted development rights amongst others.
• rics.org
Energy and Rural Business Show - Ireland
23-24 October
Kilkenny
The Energy Now Expo and Rural Business Expo will take place at The Hub at Cillin Hill. With diversification support and expert speakers, this event incorporates sectors from renewable energy production to energy storage.
• energyandruralbusiness.co.uk
Farm Business Innovation 2019/Holiday Park Innovation/Family Attraction Expo
November 6 & 7
NEC Birmingham
See speakers including Edward Phillips from Luton Hoo Estate (You don't have to be big to diversify) and Joby Mussell of holidaycottages.co.uk, part of The Travel Chapter (Beyond the barn conversion – What guests want from self-catering). With 500 suppliers and 200 seminars, it's a big show with plenty to offer – no matter what your diversification plans are.
Three Counties Farming Conference
November 14
With afternoon speeches, an evening conference, buffet dinner and the Nuffield Scholar Presentations, there's a lot to pack into this Malvern event. The conference will be chaired by local farmer and BBC Countryfile Presenter Adam Henson, and this year's conference will discuss Post-Brexit Opportunities – planning ahead for the future of food and farming. 
LAMMA
January 7 & 8, 2020
NEC, Birmingham
Billed as the UK's leading farm machinery, equipment and services show, this event does exactly what it says on the tin. The first all-indoor show last year proved popular and organisers say: "The overriding message that emerged during the show was that the new indoor venue had proved ideal for a national event of this size and stature. It provided a comfortable environment in which to view and discuss the vast array of agricultural kit on show and to talk business, leading many exhibitors to comment on the high quality of conversations they had with visitors."
• lammashow.com
Oxford Farming Conference
January 7 - 9
Oxford University
This event centres around pioneering agricultural thought leadership, events and research. Speakers will include policymakers, experts from the agricultural-supply chain, farmers and scientists.
Energy and Rural Business Show - UK
3-4 March 2020
Peterborough
Showcasing innovations in renewable energy, diversification and low-emission vehicles, with expert speakers and incorporating sectors from alternative farming to family attractions.
• energyandruralbusiness.co.uk
Farmshop & Deli Show (pictured) 
30 March - April 1, 2020
NEC Birmingham
This trade-only event highlights the latest in farm shop trends, with everything you need to make your business a success. Expect to see over 450 suppliers that encompass the core food categories from chocolate, hot drinks and olives, to condiments, meat and preserves. Over nine years, the show has developed to focus on other areas of the speciality market including stationery, candles, furniture, equipment, labelling and packaging.
• farmshopanddelishow.co.uk
LEAF Open Farm Sunday
Sunday 7th June 2020
Nationwide
Hundreds of farms all over the country will open their gates for LEAF Open Farm Sunday 2020. As the farming industry's annual open day, it offers a fantastic chance for people to discover real farming at first hand and see for themselves how their food (and much more besides) is produced. It is also a great way for farmers to shine a light on what they deliver and why supporting British farming matters.
• leafuk.org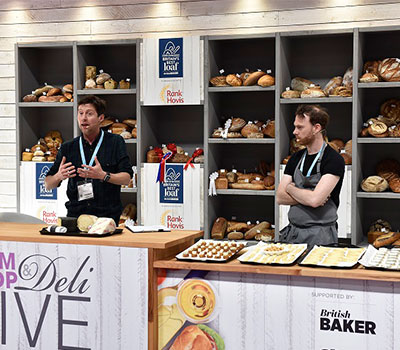 AGRICULTURAL SHOWS SPRING 2020
4 May - North Somerset
9 May - Ayr
9 - 10 May - Nottinghamshire
10 May - South Suffolk
13 - 16 May - Balmoral
21 - 23 May - Devon County
17 May - Essex Young Farmers
23 May - Fife
23 May - Shropshire
23 - 24 May - Hertfordshire
25 May - Northumberland
25th May - Great Harwood Show
25 May - Surrey County
27 - 28 May - Staffordshire
27 - 28 May - Suffolk
28 - 30 May - Royal Bath & West
31 May - Rutland
31 May - Cambridgeshire