Wednesday, April 3, 2019 - 12:41
A family business passionate about design, craftsmanship and quality.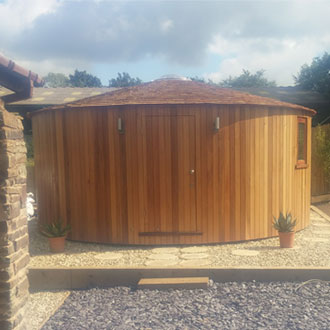 Cedar Tree Pods is a family-run business based near Wrexham in North Wales. We make beautiful pods, shepherds huts, yurts and garden rooms. Each one of our pod designs can be tailored to your exact requirements, fitting perfectly with the needs of your business, family or lifestyle. From initial design to full realisation our team will work closely with you to create the unique space you've always wanted.
With farm diversification high on peoples agenda and Brexit looming large, now is the perfect time to think about what glamping could do for your business. Whether it is a side-line in an unused field or a complete change, there is great potential in the glamping market and with more and more people taking "staycations" now is a perfect time to get involved.
 All our pods and huts are built using CNC precision machined frame systems, which are by far the best on the market.  We then use the best materials on offer to complete the rest of your project at our workshop here in North Wales. Our team of skilled craftsmen take great pride and care in every detail of your build so you can rest assured you are getting the very best. We offer unrivalled customisation to all of our products and we will work closely with you to achieve exactly what you need. All our range comes with full electrical and gas safe certificates where appropriate from our qualified contractors. This coupled with our sub-zero insulation packages and range of en-suite and cooking facility options means you will have true year round usability and a product that will last you for decades and keep people coming back to you time and again.