How glamping is reviving our taste for ancient foods
Wednesday, October 30, 2019 - 15:49
We are Spirits Intent, a small, successful, UK based tent-making business, and have been working in the glamping industry for 15+ years, watching it grow from humble beginnings to a mainstream trend. Alongside this we have set up a project called Heartland, a centre for sustainable tourism on a yurt campsite in the mountains of Abruzzo, Central Italy. In this region, as often is the case, farmers have had to compete more and more with big agricultural industry and there is much depopulation as young people are moving away to the cities. This trend leaves villages empty, land abandoned and the traditional ways of farming, culinary skills and folk traditions dying with the older generation.
We introduced the idea of small glamping sites and as a sustainable way to bring income and energy back to the area, as well as reintroducing the organic growing of ancient wheat grains, for which Abruzzo is renowned. Unlike in the UK, the concept of glamping is relatively unknown in the region and it took a while to get the wheels to turn but farmers have gradually begun to see the opportunity to diversify into something new, attracting visitors to the area famous for its hilltop mountain villages, beaches and cuisine and with it a boom in custom for local restaurants and services.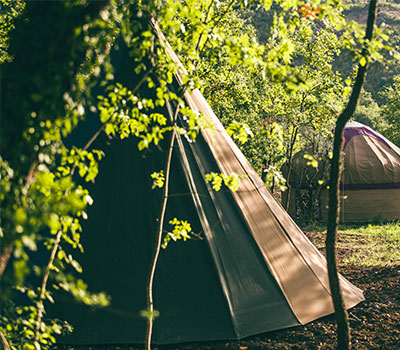 Having learned so much in Italy we have brought this project to the UK as there is a similar call for sustainable rural development to revive the traditions of the villages and local crafts, preserve heirloom varieties of grains and vegetables, and raise rare breeds of livestock.
Our model harnesses the growing consumer interest in eating quality, organically grown food and further to connect more with the processes of food production. The idea is simple: a small glamping site of 2-4 units, as we feel that this is the maximum number manageable by one family, with the possibility of having a larger, central structure to serve as a communal space and restaurant or shop. The farm diversifies into speciality breeds, ancient grains and vegetables which can be served in the restaurant and sold in the shop. It's a special glamping site which allows people to experience the deep tastes of foods such as bread made from ancient grains, traditional cheeses, and cured meats, heritage potatoes, fruit types native to our forests. Our particular passion is the growing of heritage wheat varieties, using traditional farming methods, which doesn't take much land and is surprisingly easy. This can then lead to running small events on the farm centred around the harvest and processing of the grain and also workshops teaching bread and pasta-making. We can provide seed from Italy for such an endeavor.
In the last year we have been in contact with many people all over the UK excited by our model and looking to add glamping to their land-based project. This winter, we are developing an exciting line of a new type of restaurant/cafe, based on the old tastes of food and have four or five large 10m nomadic tent structures of a kind not seen in the UK. These we can either sell directly, offer an instalment payment plan, or work in some sort of partnership arrangement – for example incorporating visiting chefs cooking dishes based on traditional peasant farming. We have many ideas and can work with you on developing a unique business plan tailored to your specifications which brings out the best of your land.
We are looking for farms in isolated hill farm areas of Wales, places that still have old traditional buildings and character and need work. We are open to taking on a farm like this, that has maybe been bought as part of an investment, and developing a campsite on it using our own tents, meaning the owners can then enter it as a ready-made business, or rent it out to someone who can run it as such.
Taste the land.
See spiritsintent.com for more details.