Gitcombe Estate – from a one-pig farm to luxury holiday accommodation
Tuesday, January 14, 2020 - 13:34
Farm Diversity editor Victoria Galligan chatted to land owner Rodney O'Brien about Gitcombe Estate in Devon, which recently added a five-star disabled-friendly retreat to its portfolio of holiday accommodation…
Rodney is possibly one of the most versatile business people you could ever meet. Over the last 30 years, he has been an arable, beef cattle and sheep farmer.
Aged just 15 years old, Rodney embarked on his career in farming with five acres of land and one pig in Warminster, Wiltshire. His father owned the land and helped him to get started in pig farming. His father was an Army Officer and had rented half of a very large farm house near Tywyn, North Wales from the Pugh Family – that was when farming got into his blood.
Transforming rundown farms
Over the last 30 years, Rodney has owned five farms in his farming career. He has taken rundown farms and enjoyed doing them up, before moving onto bigger projects. He doesn't regard himself as a farming developer, he has always just tried to improve his acreage. His last significant purchase was a 650-acre estate in Lambourne.
However, Rodney suffered from back issues and as a result needed to consider alternative streams of revenue.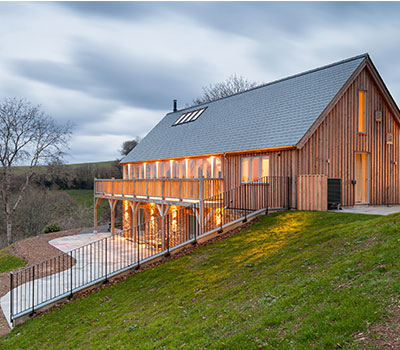 As a new venture, Rodney purchased the Membury Estate and sold the 650-acre farm land in 1992. He reinvested it into Greenwood Grange, Dorset, in 1998 where he and his son Peter ran the self-catering estate for 10 years.
He transformed the estate and built three new houses and a restaurant, along with carrying out some refurbishment work to other buildings. He ended up with 18 holiday lets. Rodney managed to keep his passion for farming by retaining some land for sheep farming.
Have confidence in your abilities
Rodney said: "My biggest realisation was that farmers can multitask and should never think it's not the only job they can do. Farmers are capable of diversifying and entering the holiday-let industry, it's not something to be concerned about.
"One of the hurdles I anticipated was dealing with the public instead of animals, learning new skills and dealing with holiday makers. If you don't get it right, you don't last in business very long.
"I found it easier than anticipated in the end. So it was just about a new way of approaching things.
"I found I did have the skills needed and aside from providing an attractive place for guests to stay, I realised it was important to understand holidaymakers' needs: for example, to pick-up on whether they would like to engage with you – some do, others are happy by themselves. There's a gut instinct you need when dealing with people, it's important to tune into that."
The Gitcombe Estate comprises of nine holiday cottages and 17 acres of sheep farming land and is owned by Rodney and Peter. He is currently keen to increase his acreage again and expand his sheep farming business in the near future.
And he has some advice for those thinking of diversifying into agri-tourism: "Never be frightened of putting your best foot forward, and have confidence, entering into the holiday-let market, it is likely to be easier than you think."
Farmers considering letting holiday accommodation, or property owners interested in making a better return on investment, should visit cottages.com or call 0345 268 1174 for more information.