How Crypto Mining Can Revolutionise The Rural and Renewable Energy Sectors
The world of Cryptocurrency and Blockchain technology is now a multi-billion pound industry and is the fastest growing sector in the world, with a market cap larger than Coca-Cola...
...But why would farmers be interested in Cryptocurrency mining?
It's not news to anybody that agriculture is hard work. It's a very time intensive lifestyle which can leave little time for other investment options. Not only that, but with agriculture there are limited diversification options which are often incredibly expensive for the returns that they can generate.
The usual suspects
What do glamping, camping, farm shops and holiday lets all have in common? They rely on PEOPLE.
That's where we come in with a different model, one that doesn't NEED people
Imagine if you could earn a higher-yield passive income just by turning on a row of computers in a barn. Sounds too good to be true? Well it isn't!  Because we're already successfully online in over 20 UK farms, all within the last 18 months!

So how does all this work?
Let's use an example that everyone understands. The internet. In the case of the internet, it's the underlying technology of all of the websites that we use every day.
In a similar way, the blockchain is the underlying technology that powers all of these cryptocurrencies, each one being a different business and having a different purpose.
And in the same way that the internet needs computational power to run the likes of Google and Facebook, the blockchain needs computational power to authorise transactions on the network.
This is where cryptocurrency mining comes in
The role of 'miners' is to secure the network and to process every transaction. Miners achieve this by solving a computational problem that allows them to chain together blocks of transactions or data. Hence the name blockchain.
All these verified transactions need computational power to keep the network running.
So ok, the blockchain is the real secret sauce and it needs a lot of power to run it, so how does that involve making money?
Get paid to power the blockchain
Well, since it takes a lot of computational power to run the network, only specialised machines will do the job,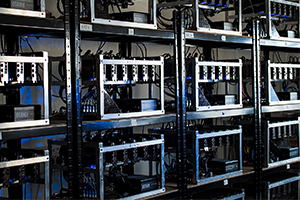 and they cost a bit of money.
So, as a thank you for spending a bit of money on a mining rig and volunteering your power to run this amazing technology, you get paid.
This is revolutionising the rural and renewable energy sectors
Our rural business clients have turned their farms and land into mini Crypto mining data centres.
It is a completely passive investment that does not eat into your precious daily task time. An entirely retrofit plug and play solution is now here. All that is required is a standard 240V plug socket and internet connection (even 4G works) and your finger on the on switch.
What if I produce my own renewable energy?
Then it gets even better.
With the ever decreasing and recently abolished FIT (feed-in-tariff) scheme, the majority of renewable energy sites sell their electricity for single figure pence per kWh earnings. This is giving no incentive to build more renewable energy sites since there is no reward.
 
On top of this, there are renewable energy sites out there which are constrained and can't export their full capacity of energy to the grid, forcing them to dump energy, which is literally just throwing money away.
 
Renewable energy producers need a new incentive to keep producing green energy
So why not have a machine that earns you money just for leaving it on?
Since renewable energy producers will benefit from cheap electricity, their return on investment is even better than usual, meaning that based on the net income over 12 months, our renewable energy producers were able to average their pence per kWh at up to 40p!
This is HUGE considering that with the current Export tariff that is in place they are getting only 5.50 pence per kWh at the moment.
We're already changing the industry
With over 20 renewable sites online already, we're already helping rural and renewable energy investors to yield multiple times their current tariffs with Blockchain technology.
Our hard work has gained us an official endorsement from the British Hydro Association and we continue to work heavily with renewable energy associations in order to educate everyone on this new revolutionary model.
Our CEO Josh Riddett has keynoted at many rural and renewable energy events around the UK, including the annual British Hydro Association Conference, Farm Innovation Show and the Energy Now Expo.
What else can these machines do?
As you'll know, machines tend to give off heat. And our machines are no different.
The only waste product from our mining rigs is heat, which many of our clients have used for a commercially viable reason, such as heating cattle sheds or barns.
We even have a customer that suggested venting the heat into their chicken coop to keep the chickens warm at night!
So what is the future of Cryptocurrency and Blockchain?
Throughout the first half of 2020 there were numerous public announcements from countries and unions about their own digital currencies. Our CEO Josh Riddett was recently part of a round table discussion as part of the EU parliament on Cryptocurrency and Blockchain, with parts of the EU already looking at making their own digital currencies.
There are also many big businesses that are adopting Blockchain technology, such as Microsoft and Starbucks. As well as businesses using Blockchain to improve their supply chain logistics and many other use cases of Blockchain that are being discovered every day.
But why is this good for Crypto mining? 
With the whole industry moving forward, the supporting network will also grow, requiring more computer processing power. 
With ultimate flexibility, your Blockchain servers can support the entire industry moving forward. The machines aren't confined to just one coin or network so with the expanding industry there will only be more opportunities for the machines to generate earnings through various methods. 
Very similarly to how internet servers can power any website in the world, your Blockchain servers can equally power hundreds of Blockchains and as the market expands, there will be more and more to choose from. 
Due to the nature of the equipment the servers can also be used for commercial applications, such as deep learning for artificial intelligence or commercial scale distributed GPU rendering. Which again, adds multiple methods through which the machines can generate earnings. 
All of which we help you to take advantage of with our expert team on hand to ensure you're getting the maximum returns possible. 
Message from a fellow farmer
Phil met Easy Crypto at an Energy Diversification show in Feb 2019. Phil had been operating his AD plant for a few years and was exporting around 50% of his power to the grid for single figure pence per kWh earnings. 
Phil was constantly looking to get more for his power and after reviewing the figures that Easy Crypto had generated from their renewable clients, it was a no brainer. Within the first quarter of running the equipment on site, Phil had generated earnings up to 4 times higher than what he was receiving for his tariff from the grid. 
"This was really an opportunity where we have surplus power, the Blockchain seems to be a massively growing area, it's a complex area so we partnered with Easy Crypto to deliver the technical solution to allow me to add value to the surplus power that I generate...and there's very little extra demand on me and my time or any of my staff and teams time, to make them perform and operate. So it's a great fit, an add-on to our renewable production."
So why us?
We are an ROI focused company who centre completely on your overall returns. Our company is designed from the ground up for investors with no prior knowledge of the industry and no technical know-how is needed. On top of this, with every purchase, we include our lifetime, industry leading support to ensure you're always on track. All our rigs use the best parts on the market, are designed to last a long time and come pre-installed with the most powerful mining software. 
Along with this, all of the relevant accounts will be set up for you before you take possession of the equipment, full one on one in house training (physically or virtually) will be provided on all the software and accounts necessary to operate the mining rigs successfully, and we give on-going support and advice on what coins to mine to give you the biggest returns possible.

So what are you waiting for?
Whilst Cryptocurrency might not be fully understood by some, farms and renewable sites around the country are realising that GPU mining may just be the way to secure a future that is wholly uncertain, with an investment that requires very little technical know-how and with a company that wants to revolutionise our vital rural and renewable energy sectors.