Innovative Yorkshire Glamping Company Expands into New Premises
A two-year old start-up glamping design and manufacturing business, Anthropods & Co Ltd, has moved to new 4000 sq. ft premises at Hambleton Grove Industrial Estate, in Knaresborough, North Yorkshire.

The move has been necessitated by an expanding order book and a need to speed up production to meet increased demand. 

"We are currently building 6 x Bleriot 72 4 Berth Pods for leading wedding venue, Thief Hall, near Northallerton, and a second Bleriot Plus 600 model for a Netherlands camp site operator," said Anthropods creator and CEO, Rik Currie. "This will be the company's third export sale to Holland since we set up the company just a couple of years ago."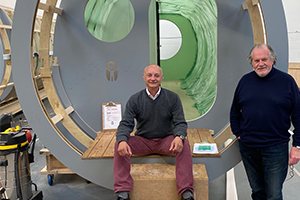 Anthropods is currently negotiating with a number of landowners for pod deliveries in 2021. "Glampers are becoming more discriminating, searching for luxury and new experiences. Anthropods high-quality finishes and unique designs also command a higher than average bed price per night," commented Douglas Adamson, Anthropods Executive Chair.

"We continue to receive enquiries for our pods on a daily basis from landowners, farmers and aspiring Air BnB entrepreneurs looking to maximise their land and capitalise on the growing staycation market. Our products are at the top end of the market and with starting prices ranging from the £29k - 52k but such is their appeal we expect customers to achieve a ROI within two years of purchase," said Adamson.
Anthropods have employed extra staff including an apprentice joiner to cope with the extra workload.