Thursday, March 5, 2020 - 14:00
Nestled on the edge of a World Heritage site, the English Lake District in Cumbria, sits a unique and individual lodge manufacturing business, Retreat Homes and Lodges Limited.  
Here, with over fifty years in the industry, experienced designers and skilled craftsmen hand build bespoke lodges with thorough attention to detail and particular emphasis on the internal and external aesthetics, structure and environmental credentials.  Built to exacting standards, each Retreat complies with BS3632:2015 Residential Park Homes & National Caravan Council Specifications. 
With current clients across the length and breadth of the UK, our designers invite clients to work in partnership with them, often in the comfort of Retreat's purpose made Specification Room in Cumbria, to ensure their exact requirements are discussed, understood and incorporated into their dream accommodation.
The Retreat philosophy is simple.... quality design, quality build & quality finish.  
We have extensive experience nationwide working with farming communities of one form or another, from Scottish Island locations through to Lincolnshire businesses and any number of farm developments in between.  Farming clients are varied; from award winning sites in Cumbrian (Brayton Park) to up-and-coming farm diversity projects in Lakeland and Fife.  
No matter where the location may be, we have gained a strong reputation in the industry for dynamic design with contemporary styling, featuring intricate architectural elements.  Homes for either the rental market, residential living or for staff accommodation are all designed and manufactured to the same high standard.  
Retreats by virtue of their size and construction method, fall within the Caravan Act and the benefits that infers.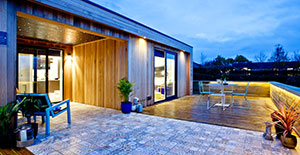 However, for all intents and purposes we design and manufacture a timber framed home, the only fundamental difference it that the home is built on a chassis and transported to your site.  Furthermore, constructing our homes in a factory gives us the opportunity to negate the uncertainty and stress of traditional building and helps to produce high performance, low impact homes.
One stand-out characteristic that sets Retreat apart from any number of their lodge manufacturing contemporaries is their use of 18mm untreated Western Red Cedar as their preferred external cladding.  
This natural and stunning material has the highest of environmental credentials and is often the first requirement on the wish list of Retreat's customers when creating their own Retreat.  Rodent resistant pipework, galvanised steel guttering, A+ rated kitchen appliances and all structural timberwork set at 400mm centres, confirm the fact that Retreat builds properties that will stand the test of time.
Priding themselves on promptness and a high level of after care service, coupled with a Goldshield ten-year extended warranty scheme, Retreat ensures you have confidence and peace of mind that your bespoke property will stay in great condition for decades to come.   Build assurances also come in the guise of Retreat being a National Caravan Council (NCC) approved manufacturer.  
Here, quarterly unannounced inspections by the NCC at Retreat's factory, guarantee that your Retreat is delivered to you in perfect working order.
Being a bespoke manufacturer means that at Retreat we can spend time designing and hand crafting your perfect home to your exact specifications.  
It is possible however that you may have to wait for the experience as currently Retreat's order book is very healthy. 
If you want to meet one of Retreat's experienced team members and cannot make it to their headquarters in Cumbria then we annually attend, the Scottish Caravan, Motorhome and Holiday Home Show at the SEC Glasgow and the Home and Renovation Show at the NEC Birmingham and the Farm Business Innovation Show with our exhibition stand.  
Further to this we showcase a Retreat at the Caravan, Motorhome and Holiday Home Expo at the showground in Harrogate.  At any of these locations you can have the opportunity to engage Retreat's knowledgeable staff on any aspect of their lodge manufacturing business and perhaps start on the first exciting steps of planning your very own grand design in partnership with these industry specialists.