Where the wild things grow!
Tuesday, January 21, 2020 - 14:17
There's plenty of research showing how spending time in nature soothes the mind and improves mental health.  Wouldn't you sooner choose a picnic and play area that is beautifully designed and set amongst trees, ponds and other habitats, rather than an identikit playframe on a flat expanse of tarmac or wetpour?
We think so… and these are the spaces we want to make more of.  If you are a landowner keen to offer just such a garden of delights to your young visitors then we hope you'll be in touch.
"The first five years have so much to do with how the next 80 turn out." Bill Gates
At last there is a sense of urgency towards re-wilding Britain, which suffers one of the highest levels of depleted biodiversity alongside increasing mental health issues.  We believe that our crafted timber structures, set in natural landscapes, go a little way to address these problems.
Where the wild things grow    by Christopher Swinburn
Within this mossy bower I sit, my mood is all aglow
For through the frumbly canopy a drama plays below
Some pups are prancing on the rocks and chasing through the trees
With not a thought for quiet restraint and "Could we if it please.."
A cocky robin serenades, a squirrel seeks a treat
A roe buck snuffles in the shade at a wood mouse indiscrete
And in the sun the insects hum while youngsters climb and swing
All creatures great and small can thrive within this clearing.

At Monkey Business Design we offer characterful timber structures AND the creation of natural landscapes to suit your space and budget.  So, we'll make play spaces that sit perfectly within existing natural landscapes.  And if you don't have the landscape, we can design and create that too!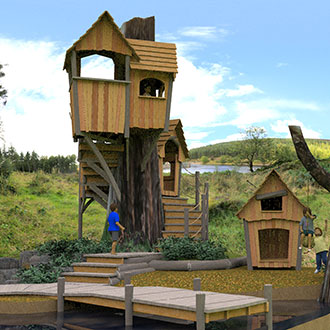 What's more, we can assist with funding for your project from soil recovery payments to tree planting, habitat and maintenance grants.
Have a theme?  – A medieval Knight's castle and woodsman's cottage, a hobbit village or Victorian mill?  We can craft delightful structures built with durable European timbers.  Our small team of carpenters can turn their hands to most things.
What ecological services do we offer? – We can assess your site for its ecological and landscape value and perhaps recommend further improvements.  We'll also consider the area's geographical and cultural heritage.  Then we design, build and plant landscape features, leisure and play facilities accordingly.  Even a small space could benefit from biodiverse planting, living walls and roofs, nesting boxes and perhaps a cosy arbor amongst wildflowers and water.
We also offer an environmental cost analysis of your project with opportunities to offset these costs towards carbon neutrality. The more conservation, new planting and habitats you create on your site the better.  We can further offset project environmental costs with certified payments for planting and re-wildling elsewhere.  
So we hope you'll consider us when planning a facility to attract visitors and wildlife.
 Ffi Please visit www.monkeybusinessdesign.co.uk or give us a call. 07779 568394