68% of farmers have diversified to boost income
Wednesday, April 17, 2019 - 14:49
Carter Jonas, the national property consultancy, and Farmers Weekly, the market leading media brand for the UK agriculture industry, have unveiled that more than two thirds (68%) of farmers and landowners have diversified to support and boost income. The findings are from a new survey completed by 250 Farmers Weekly readers.
Of those who have diversified 97% consider it a success from a profitability perspective whilst eight in 10 thought that it was also an environmental success. More than half of those currently diversifying plan to do  more in the next five years.
Securing planning permission, funding and correctly budgeting for a new enterprise are the areas that farmers found most challenging. Only one in five received grant funding to assist with their new venture.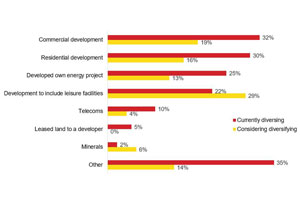 Among those planning to diversify, it will mostly be into commercial lets such as workshops, offices, and storage, alongside residential developments for tourism and the domestic rental market. However, the survey revealed respondents are running a wide range of alternative enterprises including farm shops, renewable energy, winter gritting services, coffee roasting and dog training to boost income.
Tim Jones, Head of Rural, Carter Jonas said: "Whilst agriculture is seen as one of the country's most historic industries, conversely, it is also at the forefront when it comes to embracing innovation. Across the UK there are excellent examples of progressive farmers who have adopted modern technologies and new business lines to drive efficiency and better utilise land and assets to provide new and improved income streams. Carter Jonas has advised on a very wide range of diversification projects often assisting with initial concepts, progressing planning applications, managing building projects and providing investment and letting advice.
"Some respondents  felt forced to go down the alternative enterprise route to simply survive, this feeling is only likely to accelerate as we move into a new regime of farm support. Income from pure farming is likely to decline over the next few years and farmers need to seize what opportunities they have to generate income."
Suzie Horne, Business Editor, Farmers Weekly added: "Farmers Weekly is delighted with the detailed responses people gave to the survey, taking time to offer their tips and advice about branching out from farming to boost income. Of course a new enterprise often brings more risk but it can also help to modify or develop the structure of a family business, enabling it to accommodate a new generation when farming alone may not be able to do so. There were practical warnings about the pitfalls too, but overall the result was very positive towards alternative enterprises, with the vast majority making a profit. Many of those who responded had a clear plan and drive to raise the level of engagement with and education of the public about food, farming and the countryside and the survey revealed plenty of examples of an excellent job already being done on this front."
For more information about the survey 'More Than Two In Three Farmers Have Diversified To Boost Income' and more click here