Distinguished farmer becomes university honorary fellow
A farmer who has used conservation to help transform the fortunes of his family's historic estate has received an honorary fellowship from the University of Cumbria.
Giles Mounsey-Heysham is the ninth generation to manage his ancestral family property, Castletown, near Rockcliffe, Carlisle.
Inheriting the farm following the death of his father, Giles went on to qualify as a chartered surveyor, working for international land agents Cluttons for 35 years. He continues to work as a consultant for Savills today.
In parallel to his professional career, Giles ran the 4,700-acre family farm in rural north Cumbria.
With support from Natural England, he transformed the property from a debt laden, loss making liability to a diverse and profitable business during his high-energy 50 years in charge.
In April 2019, Giles passed over the management of the property to his eldest son, Toby.
Giles became Master of the Grocers Livery Company in 2003 and in 2018 won the highly-coveted 'Farming and Wildlife Advisory Group National Silver Lapwing Award'.  This award is from the farming and conservation industry for outstanding efforts to promote good habitat and environmental management and balancing this with food production.
Giles now becomes a University of Cumbria honorary fellow, recognised for his lifelong and outstanding service to land management, agriculture and charitable activity.
In addition to his farming and consultancy work, Giles is heavily involved in the local community.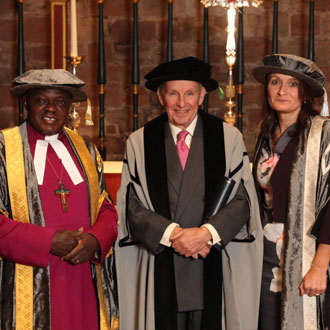 A Deputy Lieutenant of Cumbria, Giles also chairs the Lake District Calvert Trust and further afield sits on several external bodies such as the Country Land Owners and Historic Houses Associations tax committees.  He also has various non-executive directorships and trusteeships. 
 
Giles described the accolade as an 'enormous privilege' as he addressed graduands and guests at Carlisle Cathedral earlier today.
 
Watched by his wife Penelope and two sisters, Ann and Gentian, he said the conferment was 'more poignant and special' due to the weight of family history surrounding him during the ceremony.
 
He is a descendant of G.G. Mounsey, the first elected Mayor of Carlisle, who had a law firm within 500 metres of the cathedral, and John Heysham, a distinguished doctor and statistician who opened the first dispensary for the poor and has a cathedral window dedicated to him.
 
Reminding the latest class of 2019 about their university success, Giles urged graduands: "These will have been important and formative years for you.
 
"You will have made great friendships, you have had a great education and now the world is your oyster.  But don't forget us here in Cumbria.  If you have to go away, please come back as you are our future and we need you."
 
He added: "Thank you again for this honour.  I feel really proud to be a part of the university and I will do everything I can to help it prosper and succeed."
 
University pro vice chancellor Michelle Leek said: "Giles has vision, enthusiasm and determination, inspiring all those he has mentored over the years and who work with him. We're delighted to welcome him to the university as a new honorary fellow."