Pathfinder Homes - Innovation, Inspiration & Imagination
Monday, March 21, 2022 - 11:49
With the reduction and uncertainty of future subsidies, many are looking for alternative incomes to secure their futures. Since 2018 farm diversification according to a survey by NFU Mutual, has gone from 29% to 37% with 2020 seeing a huge 6% jump alone! Here at Pathfinder Homes innovation is what we are all about, we haven't become market leaders just by chance. We are at the forefront of luxury lodge design, with all our homes being built bespoke to meet each individual specification. You can be sure that your home will be unique and best suited to you!
The rise and continuation in popularity of staycations since the beginning of COVID-19 have aided this jump and doesn't look like it's going to end anytime soon. A study by the Mirror found that Inquiries about breaks in Britain for 2022 are up by 74% from the year before. People love getting away to get some needed downtime from their busy city lives, without the difficulty and risk of going abroad, luxury getaway accommodation is still in huge demand. There has been no better to invest in holiday letting with the change in the stigma of UK holidays being substandard to holidays abroad. There has also been a rise in the popularity of farm getaways, suiting those who are looking for scenic surroundings.
The return of investment depends on several variables such as: location, facilities, bedroom to bathroom ratio, and type of accommodation. With a Pathfinder Home's beautiful and desirable designs, you can be assured to expect larger returns. With almost 60-years of experience building luxury lodges, we've done it all from; hot tubs, outdoor showers, cinema rooms, voice-controlled/smart homes and much, much more. You're able to decide on every aspect of the design, from the exterior finish to the kitchen sink. Our Selection Studio is the perfect place to be inspired, and our Interior Design team can walk you through it, every step of the way. With minimal time and low maintenance needed, it's easy to see why they've become so desirable and what better time to get your own Pathfinder Home or homes.
Pathfinder Homes's build quality doesn't just meet building specifications but exceeds them across the board. We're so confident in our quality every new home built with us is given a 10-year warranty, in collaboration with our partners over at Platinum Seal. Although it's unlikely that it should need this, with our very first homes being built all those years ago still being used and live in up to this day.
We understand that getting planning permission for your own land isn't always as straightforward as you may expect but we can really help with that, in fact, we can do it for you absolutely free. The most crucial thing for any farmer thinking of diversifying into holiday rentals or residential parks, is to research and speak to experts. With all of our years of experience in park and land development, our friendly and professional team are here to help, to find a solution that best suits you. It isn't just our home that's bespoke, we tailor our service for each individual customer. We know and understand that each landowner has different requirements and needs. You will be assigned a dedicated account manager, who will arrange a free land assessment and even help design your park!
Furthermore, with the possibility of finance, you don't have to worry about paying for your lodge or lodges all at once and can pick the best plan to suit you! Just another way Pathfinder Home's tries to give you peace of mind.
Let your Imagination run free – our team will turn your dream into a reality.
Above The Dusk
We are continuously innovating and redefining the possible. With some show stopping new designs, 2022 promises to be no different; including the all-new… Dusk; perfect for the residential market this home is cosy and practical. The Dusk is modern, warm, and thoughtfully designed, whilst also intriguing, wistful, and reflective. Born from the desire to create a naturally stylish, decorative, and spirited space.  Perfect storage solutions throughout with Intelligent space-saving design, has resulted in something unpretentious, whilst making the most of every space.
The Lounge is a perfectly concealed hideaway with sliding doors, both space-saving and elegant. The pocket doors slide back into the wall as if by magic, creating an air of mystery as well as character, which is aided by the presence of a secondary sliding barn door leading into the Dining area.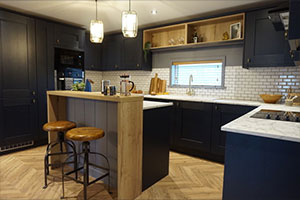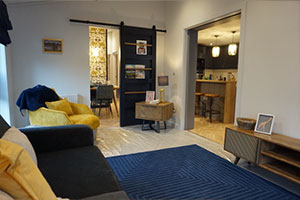 Above Left The Dusk Lounge - Above Right The Petrichor Kitchen
The Kitchen is the largest yet, with units and appliances around the whole room. Island/breakfast bar takes centre stage making this the perfect space for entertaining. Adjacent is a fabulously practical Utility/Boot room.
The Dining room with its eye-catching feature wall and large French doors which allow for a sense of alfresco dining as well as a light and open setting in which to enjoy your meals. large bedrooms both have multiple storage areas with built-in wardrobes and bedside tables.
A dropdown desk allows for a sealed-off area perfect mini office. Opposite this space is the fully fitted Bathroom, featuring a free-standing bath complete with a heated towel radiator.
Dusk is designed not to replace or change but to compliment your lifestyle.
Reinventing the industry again, the eagerly anticipated and long-time coming design, The Petrichor; A name meaning the inimitable scent of rain on dry earth. This resonates with the vision of this home; an one of a kind, created with sustainability at the heart and our world in mind. Using recycled, reclaimed materials and preloved materials, all of which have been individually selected, which offers a deep-rooted story, with every piece of cladding having a background and history of its own. Petrichor is a one of a kind, with an rustic notes with a modern 'Soho' vibe. Designed with meticulous attention to detail and with a relentless 'That'll do, won't do' approach, The Petrichor will be a flagship home for many years to come.
Below The Petrichor Teaser Photo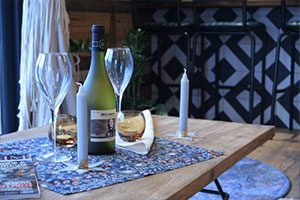 Cladded entirely of reclaimed Timber, the kerb appeal of this home is textured, thoughtful and striking. With a metal clad roof and external bathtub and shower, the visual vibe is inspired, generating a calm wanderlust mood.
With a choice of entry, depending on your muse depends on what will greet you but you can certainly rest assured of a greeting. Perhaps in need of a wash down after a long day exploring the local landscaping, save the need for cleaning the floor and shower outside in the private porch area then enter via the utility room. Here you will find a reclaimed, re- engineered wood floor, plenty of storage and a carefully placed washing machine (handy to throw in your muddy walking clothes).
With a vintage inspired kitchen design, the reclaimed wall panelling, fitting wall lights and individually sourced appliances and tap, this room is equipped perfectly to host your quick bites, small parties, and evening meals. The well-suited Belfast sink and plate racks are complimented perfectly by the pastel colouring.
The master suite is suitably grand with a walk-in wardrobe. With an interesting multi-pitch ceiling, finished to exceeding standards, this room is the perfect balance between peaceful serenity and natural energy.
Waste not.
These two newest additions are available to be seen at our showground at our HQ in Heathfield, Devon – The camera-shy home Petrichor, is only available to view at Pathfinder Homes' HQ in Heathfield, Devon but hurry they won't be show homes for long!
But don't worry, let us come to you… Pathfinder Homes will be exhibiting at The World of Leisure & Park Homes (10-12 June 2022) and Royal Cornwall (9-11 June 2022) shows. We are bringing many, many more homes so come along and discover more with us? We can't wait to see you there!
Pathfinder Homes
Website: https://www.pathfinderhomes.co.uk/
Email: sales@pathfinderhomes.co.uk
Telephone: 01626 833799
Address: Pathfinder Homes Ltd,
Armada House,
Cavalier Rd,
Heathfield Industrial Estate,
Newton Abbot,
TQ12 6FJ