The success of Glamping @ Rankins Farm - Kent
Owned by the Sunnucks family since 1963, Rankins Farm was a working farm until 2017, and now provides a first-class glamping destination for visitors to this beautiful county. All pods provide you with all you would need for an incredible stay, including en-suites, WiFi, underfloor heating, kitchenettes, fire pits, and picnic benches. The site has a small adventure playground and a boules pitch, with other activities available.  Also offered is the "Blistering Beast" for communal use, this is an amazing wood-burning pizza oven that not only can you cook pizzas, but a roast, or breakfast and then all sit together in the new wooden gazebo and enjoy your surroundings. 
The Sunnucks success story of diversifying their farm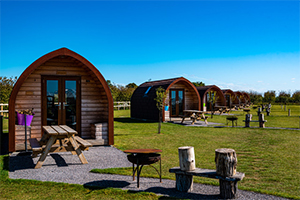 Glamping @ Rankins Farm has arisen after a recent change in events for us as a working farm. The Sunnucks' family have farmed for decades, but in 2017 it was a difficult decision to cease our involvement with the farming industry and set up a glamping destination. After the decision of moving away from farming, there was a lot of discussion about new ideas and opportunities. Our daughters suggested focusing on tourism, being in such an ideal location, we wanted to provide the opportunity for others to fall in love with the countryside, which led us to Glamping @ Rankins Farm. With the help of a grant from the European Agricultural Fund for Rural Tourism, the 30-year-old plum orchard now has a new lease of life. Following a process of grubbing, clearing the site, putting in necessary utilities and creating perfect surroundings to host the first 6 pods, with planning permission given to host 12. These are lined out in a neat, picnic-bench-fronted row with gravel pathways leading up to them while retaining part of the old plum orchard in a bushy L-shape around the field. Although ceasing our main farming business we have named the pods after plums that were grown in the orchard and have planted 2 of the variety next to the relevant pod. We have also planted 25 mixed trees to encourage wildlife into the area for all to enjoy the glamping destination.
We had a soft opening in August 2018 and have promoted the business for the 2019 season.  At the moment there are just 2 of us doing the work with some part-time help on changeovers. Our current customers have included young families, groups of friends, and couples looking for a romantic getaway.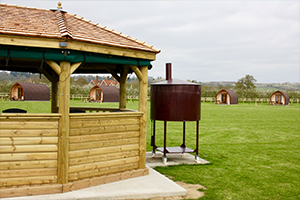 Being a relatively new business we still have the focus on developing aspects of the Glamping site, we are constantly listening to our customers to gather ideas for new investments to improve the customer experience, and will continue to do this over the next few years. However, there are a couple of developments we have invested in so far.
Since our initial opening in August 2018, we noticed we were experiencing many group bookings, although the pods are all near each other, there is a level of privacy due to the way they are structured. We, therefore, decided to install a gazebo on the opposite side of the site so groups could use this communal area to better experience their visits together. While the gazebo has been a successful purchase, it has been emphasised with the new pizza oven we've invested into too. This has been an excellent choice for us as customers tend to really enjoy using the oven for all types of meals.
We have recently also made the decision to invest into WiFi for the site, as due to the digital world we now live in, it can contribute to the decisions of customers visiting us and as well as enhancing the experience for our customers knowing they are guaranteed to keep in contact/up to date with other family/work commitments.
For more information about Rankins Farm or to enquire about a booking visit http://www.rankinsfarm.co.uk/glamping