Electrical supplies for holiday & touring pitches – we have the solution!
Wednesday, May 4, 2022 - 11:19
With the increase in demand for staycations it's no surprise that landowners are looking to diversify and increase their income by developing their land. There are various ways in which you can do this and joining the leisure industry seems a popular choice. Whether your budget allows for a small 5 pitch camping site or a larger holiday base development, Caravan Park Electrical Services are here to offer a complete turnkey solution regarding your electrical infrastructure requirements.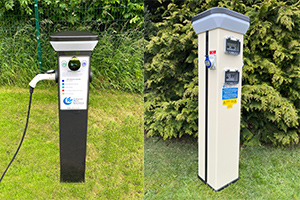 CPES was established in 1982 in the small market town of Spilsby, Lincolnshire. Over the last 40 years our product range has expanded enormously and we have been at the forefront of innovations, designing and developing products for the UK and European leisure industry. We have a skilled team dedicated to making your needs our priority and are on hand to discuss your development opportunities. In our factories in Spilsby we manufacture all our electrical connection units, multi-service bollards, distribution units and mains panels, allowing us the control to incorporate additional components where necessary. Our 'in house' engineering and design capability gives us the flexibility to develop new products to meet the demands of an ever-changing leisure industry.
If you're at the initial stages of looking into developing your land, it's important to first carry out a feasibility study. This will allow you to understand what costs are involved and ensure your project plans align with your budget. If you're happy to proceed, following your planning application we can arrange a site visit with one of our experienced sales engineers who will run through the best electrical solution we are able to offer. We have flexibility in our products and can also adapt the services we offer to suit your budget. If it's supply only you are looking for, we have a knowledgeable team who are happy to give advice and liaise with your electrician. For larger developments, our specialist sales engineers can lead the project and can put together a design package which includes technical site drawings, product manufacturing drawings and cable calculations. Should you wish to reduce costs, we're happy for you to carry out your own civil works and subsequently our experienced electricians will attend site to install your chosen CPES products along with NICEIC certification.
Caravan Park Electrical Services also has a dedicated team of support staff available, meaning later down the line, when you require periodic testing to be carried out, just get in touch with our testing and certificating department. Our approved electricians can undertake periodic test and inspections prior to sign off by our NICEIC Qualifying Supervisors.
So if farm diversification is of interest to you call us on 01790 753153 or email sales@cpes.co.uk and a member of our team would be happy to discuss how we can help. To view our product portfolio or find out more about CPES visit our website www.cpes.co.uk