Farms in England and Wales are creating vineyards to rival those in Champagne…
Sunday, February 10, 2019 - 22:13
Farm Diversity editor Victoria Galligan spoke to Simon Robinson, chair of WineGB, about why farms in England and Wales are creating vineyards to rival those in Champagne…
Vineyards are cropping up all over the place at the moment, and with a "seismic" change occurring in English and Welsh wine production, it's little wonder farmers are turning to the the humble grape to make a profit.
As WineGB reported recently, 2018 was a vintage year for both quality and quantity for English and Welsh wines, with a record-breaking 15.6 million bottles produced. The acreage planted has grown 160% in the last ten years, and Wine GB recently reported that vine plantings may exceed the 2million mark in 2019, confirming the UK wine industry as one of the fastest-growing agricultural sectors in the UK.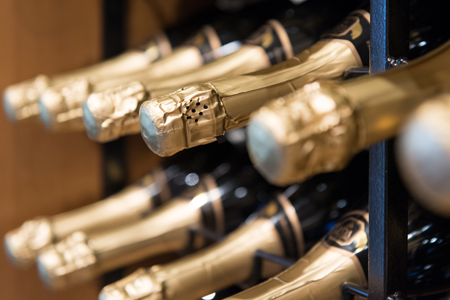 At a recent industry event organised by WineGB, HRH The Duchess of Cornwall attended as President of Wines of Great Britain and also a Liveryman of the Vintners' Company. Her father, Major Bruce Shand, was a wine merchant and The Duchess herself grew up in Sussex – now one of the main wine-growing regions of England.
At the event, Simon commented: "Our industry is going through seismic change." So what exactly has happened in the last 10 years which has been the impetus for this change?
A coming of age for Great British wine
Simon puts the shift down to a number of reasons. He told me: "The market is growing rapidly. English sparkling wine is doing particularly well although many other Great British wines are proving popular. It's still a niche industry but has expanded hugely due to several factors: firstly, the climate change we have seen over the past 40 years means that it's about 1.5ºC warmer now in southern UK – which is similar to that of the Champagne region. The rainfall is unchanged but it is warmer."
With Taittinger recently purchasing 170 acres in Kent, and Pommery investing in 100 acres in Hampshire, it's clear the French producers are taking advantage of the optimum UK climate.
Simon said the second factor in increased wine production in Great Britain was that there had been a realisation among farmers that wine-making is a viable business. He added that identifying the right site is vital: "Farmers need large areas of chalky, or greensand soil for growing vines. The land should also be under 100m in altitude, and south-facing. It's important to get someone who is knowledgeable about vineyards to come and take a look at your land. And if you're planning on putting up buildings or changing their use, then take advice on this too. With the right input and expertise, a vineyard can be successful."
Considering a vineyard?
To ensure your vineyard is a success, Simon recommends doing plenty of research before growing your first vines. He said: "Farmers should ask for the input of professional management, and take financial advice.
"There isn't really a minimum area you would need to plant: but I would recommend not planting too many different varieties. Many British vineyards are about 25 acres, with three main varieties: chardonnay, pinot noir and pinot meunier."
There are four areas to consider if you decide to plant a vineyard: growing, making, storage and selling. Growers may take on all four areas or decide to outsource, for example, winemaking.
Simon added: "The advantage of a vineyard is that farmers don't need to take out too much land: they can usually carry on their usual farming business alongside the vineyard."
In addition, some growers are diversifying even further into leisure and tourism by offering vineyard tours and wine tasting events, and even offering accommodation for a wine-tasting weekend away.
Training and advice
• WineGB offer support for those in England and Wales diversifying into the business, and by becoming a member you can reap benefits such as representation at national level as campaigns are underway regarding UK Excise Duty and improvements to the quality wine scheme, for example. WineGB acts as a loudspeaker for the industry and, as well as working with the government to improve trade, it actively promotes wine producers, boosts wine tourism and offers training and advice for members. See https://www.winegb.co.uk/industry/membership/ 
• Plumpton College in East Sussex is a long-established agriculture specialist. It farms over 2,500 acres of land in conjunction with landlords and is a leading centre for land-based education. In 2015, it launched the UK's first wine business degree, and it now offers a range of wine-related courses. Seehttps://www.plumpton.ac.uk/courses/wine/ 
• Attending national and regional events will help inform farmers thinking of diversifying. Some of the events planned for 2019 include:
- European Independent Winegrowers Trade Tasting - March 21
- English & Welsh Wine Week - May 25th - June 2nd
- WineGB Awards - 16th July
- WineGB Viticulture Technical Conference in November