New cafe complete for Country Bumpkin Yurts
Wednesday, March 20, 2019 - 12:52
A NORTHAMPTONSHIRE-BASED luxury glamping venture has completed its next phase of expansion as it opens the doors to a new onsite café. 
After launching Country Bumpkin in Great Oxendon in June 2017, childhood friends and owners Jenny Lyon and Lara Collis opened the new café last month to complement the site's award-winning farm shop and three luxury rustic yurts, which sleep between two and six people.
The glamping site on Waterloo Cottage Farm is eco-friendly and has features like solar panels - which power electricity in the yurts - a log burner, a wood fired hot tub, and composting toilets. 
Jenny Lyon, co-owner of Country Bumpkin Yurts, said: "The café was always a part of the dream for Lara and I, as we both love great food and the social side of café culture. It really goes hand in hand with glamping, as spending quality time with family and friends is at the heart of both concepts. Opening the café was the next logical step for us and opens up a world of new possibilities and exciting ideas for the site." 
Enterprise Loans East Midlands (ELEM) provided a total of £45,000 funding through its ELEM and Start-Up Loans funding streams to help the team establish Country Bumpkin Yurts in 2017 and have continued to support with advice and guidance during its first 12 months in business.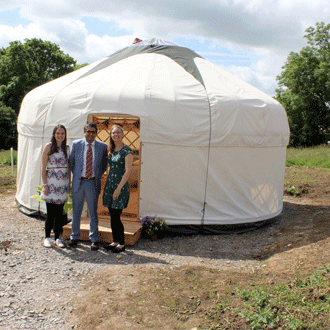 SukhveerChirrimar, loan fund advisor at Enterprise Loans, said: "We're delighted to see the success Lara and Jenny have made of Country Bumpkin Yurts. They are both incredibly passionate about the business and it's no surprise to see the realisation of its expansion after just over 12 months in business. 
"We have seen that the demand for staycations has risen significantly over the last few years and after the great weather we have experienced this summer, more people are choosing to holiday around the UK. With its close proximity and nearby links to Market Harborough, Jenny and Lara have created a real gem for vacationers both in the East Midlands and beyond."  
Jenny added: "We've certainly learnt a lot in our first 12 months in business. It's been a challenge at times, but we have both loved owning our own business. The team at ELEM have been really good to us – they have been a constant support whenever we have needed a little guidance and offered business advice which has helped us take our venture to the next level."