Follow your Nose - Diversifying into growing garlic
Friday, March 22, 2019 - 11:00
When it comes to diversifying it's best to move into a fresh, new market rather than one at saturation point. It also helps to tap into an existing skillset, even if these skills may have lain dormant for some time. 
This is exactly what Gilli and Glen Allingham of Nairn did when they diversified from potato and cereal farming into growing garlic. They then diversified further by creating a range of garlicky food products that can be ordered online. 
Craggie Farm is the only garlic farm in Scotland, and the home of the Really Garlicky Company. Glen took over the family farm in 1999, which has been growing potatoes for fifty years. The Allingham family started selling King Edward seed potatoes directly to ware growers in the South East of England.
"With the introduction of merchant-controlled varieties it became increasingly difficult to get access to these new varieties for our customers, so we started to think about diversifying into something else," says Gilli. "Glen naturally wanted to put his mark on the business too. I had more time available as our young children were going to nursery. I was keen to be part of the farming business and could see potential in the unique story we could create by growing garlic in the north of Scotland."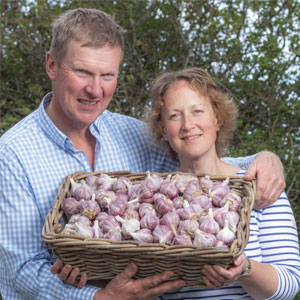 Around the same time the Scottish Agricultural College was looking for farmers to take part in crop diversity trials, and garlic was suggested. The Allinghams believed that with rising consumer interest in provenance, low food miles and supporting local producers, Scottish garlic could be a winner. Craggie Farm would provide a British alternative to imported purée from China and bulbs from Spain.
The first trial crop was planted in 1999. This was an extremely labour intensive process as the garlic was hand-planted and hand-harvested. It became clear why few people across the UK grow it successfully.
"Garlic is like a difficult onion!" explains Gilli, "It can't flourish in ground that onions have grown in previously due to an increased risk of fungal disease. We were lucky that the soil in Nairn was fertile, and it hadn't been tainted by onions."
The isolation of Nairn brought benefits, but its colourful weather meant that only the hardiest of bulbs would survive. The Allinghams sourced growers in Ontario, Canada who supplied them with Hardneck Porcelain bulbs, with the hope that the weather patterns in North America would complement the Scottish seasons. 
"The Hardneck Porcelain took to Nairn and its climate well. And when we tasted our garlic we were delighted," says Gilli. "The flavour is far sweeter than usual, and without the bitter aftertaste people often complain of. Another added bonus is the fact that Hardneck Porcelain is relatively easy to peel due to the large cloves."
After two years of trials, the Allinghams' garlic was ready for sale. But when it comes to diversification, the product is only part of the story. The next step was getting the message out to the market and potential customers. The couple successfully applied for a marketing grant that enabled them to create a new brand, and The Really Garlicky Company was launched in 2001.
Finally the Allinghams took their product to the public. They were already regulars on the local farmers' market scene. Regular customers and familiar faces were ready to try the new garlic, and the couple discovered the benefits of diversifying into a smaller, more portable product. 
"Customers who perhaps didn't wish to cart a 5kg sack of spuds around the market would happily pick up some locally grown garlic," remembers Gilli, "Light and portable goods are the way forward!"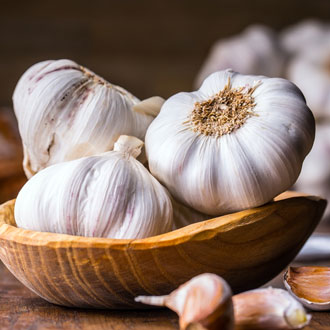 Diversifying into a niche product has also brought headaches. When the Allinghams tried to increase production through mechanisation, they discovered that garlic harvesting and planting machines aren't readily available. Adapting existing machinery is key, but it takes time. As Glen reimagines and transforms machinery, Gilli has been tapping into her background as a Leith's-trained cook.
"The garlicky food production began almost by accident. In order to allow customers to sample our garlic at farmers markets we created garlic butter and garlic bread. People began asking where they could buy these products. Creating our own line in Really Garlicky breads, butters, oatcakes and relishes felt like a natural progression."
The Allinghams collaborate with Maclean's of Forres to make the Really Garlicky Oatcakes, the Caledonian Curry Company of Bonar Bridge produces the relish, and the range also includes garlic rub, aioli, butter, ciabatta and Eazy Garlic, with many of the products available online. 
As the popularity of the garlic grew, so did the couple's dedication. From 1.5 acres in 2001, the land cultivating garlic has grown to 20 acres. Back in 1999 Craggie Farm grew roughly 20% cereals and 80% potatoes. Now it's more like 10% cereals, 20% garlic and 70% potatoes. And the story doesn't end there. As well as garlic treats, the company sells a range of garlic gadgets, including a garlic twist that minces bulbs, a garlic peeler, and a terracotta garlic-keeper for storage. 
This year's harvest of green garlic, garlic scapes and Scottish garlic bulbs were ready for sale in summer 2019. But for customers who'd like to try their hand at growing Hardneck Porcelain garlic at home, then seed garlic is available from September 2019. It's suitable for Autumn planting around October/November, with a July harvest predicted. 
"Next in the pipeline is producing our own seed stock through meristem cutting. We're undergoing trials this year for the first time, with the idea being that we can breed healthier virus-free seed stock. We're targeting the developing market of home growers, and possibly the export market in the future," says Gilli. "It's 20 years since we started our garlic journey. When we began it was still considered quite an exotic product, now it's a staple in most kitchens. We diversified at the right time, and we're proud to sell homegrown Scottish garlic."
by Janice Hopper