Dorset Ice Cream Business Shortlisted for Rural Award
Local company Baboo Gelato has been shortlisted in the Best Rural Food or Drink Business (South West) at the 2019/20 Rural Business Awards, held in partnership with Amazon. The proudly Dorset artisan ice cream producer will be up against fellow rural businesses, entrepreneurs and enterprises from across the South West region to secure a place at the national final. This year marks the Awards' fifth year of celebrating the success of businesses across the UK's rural economy - a sector which employs more than 3.4 million people in England alone.
Baboo Gelato was launched in 2015 by Annie Hanbury, a Bologna-trained gelatiere, who wanted to combine her passion for ice cream making with the glut of fabulous ripe fruit from her kitchen garden. The company also use the finest fresh, local ingredients including organic milk from a South Somerset farm. Annie and her team handmake all Baboo's gelato and sorbet from scratch using traditional techniques.
Speaking after being shortlisted for the award, Annie Hanbury, founder of Baboo Gelato said:
"I'm so excited to have been shortlisted for this great award and I am really proud of our team who work extraordinary hours all summer long. We owe a big thank you to all our brilliant local suppliers, like Julian from Forde Abbey, who arrives with a Land Rover full of strawberries during the season." 
Director and co-founder of the Rural Business Awards, Anna Price, said: "The 2019/20 Awards have seen record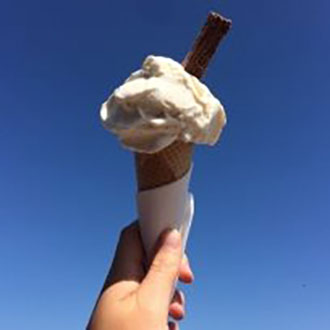 numbers of entries and it's encouraging to see so many rural businesses express a desire to celebrate their successes on a regional and national scale. We are passionate about creating a nurturing environment where rural businesses can develop, and this starts by showcasing the great work they do. On behalf of everyone at the Rural Business Awards, we want to say well done to Baboo Gelato, and all the shortlisted businesses, and wish them luck ahead of the regional finals."
The Awards are organised by rural business for rural business, with winners in the 12 categories - ranging from Best Rural Start-up and Best Rural Diversification Project; through to Best Rural Professional Services Business and Rural Digital, Communications or Media Business - decided by an independent panel of judges drawn from the rural business sector, rural public sector agencies, and rural charitable organisations.
The Rural Business Awards is hosting a series of regional finals in the North, East, Midlands, South East, South West, Wales and Northern Ireland, throughout October and November 2019, ahead of the National Final next February.