Portable hand wash sinks for your farm business, indoor and outdoor
Hand washing sinks provide warm water facilities and meet environmental health requirements – you've got to hand it to Teal
The growth in new and innovative businesses operating on traditional farm locations has increased the demand for the high-quality hygienic hand washing sinks offered by Teal. They have supplied to a variety of farm operations across the UK who were seeking stand-alone sinks, free from plumbing for visitors and for staff.  
 At Old Amersham Farm in Amersham, South Bucks, founder and enthusiast Olivia began Kew Little Pigs back in 2010 and now runs her business giving the public piggy 'experiences' where you can enjoy pre-booked visits and get close to and learn all about their miniature pigs.
They are now firmly on the map and visitor numbers are growing year on year with additional business generated from corporate events, school visits, parties, PR and TV bookings.
What's more, some of Olivia's Kew Little Pigs have even been on Game of Thrones also featuring on TV campaigns for Hendrick's and Veuve Clicquot!
As with every outdoor event-based business, particularly with animal handling, one of the most important aspects is complying with environmental health requirements. Olivia decided to add portable warm water handwashing sinks from by Teal to the facilities already in place for visitors.
"The sinks from Teal are ideal as we can place them wherever we need them as they are so portable, we can even take them to our external events, pet shows or private parties as they fit in the back of a van." She also added "I found the sink I wanted on their website, ordered it and it was delivered the next day, a really good service"
At the Burrow Farm Shop in Devon they needed a sink close to the deli counter and the fresh meat counter to allow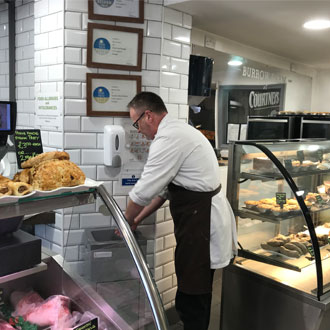 staff to wash their hands, hygienically when serving customers. The problem was that there wasn't easy access to existing plumbing.
Sally Grigg, Owner explained, "At the shop we stock a wide range of fresh local meat including our own farm-reared and award-winning Red Ruby Devon beef, local pork, lamb and chicken. We also have a fresh deli counter with our handmade produce and a wide selection of cold meats and cheese. Our challenge was that we needed high quality hand washing facilities for staff to wash their hands as they move between the counters to serve this variety of goods to customers"
Sally contacted Teal who were able to supply a sink that could be placed close to both counters, maintaining strict adherence to food safety regulations, and no plumbing was needed.
Sally continued, "The sink works really well, we can place it where we need it, we simply plug into a socket and it has a sensor that operates the warm water, so it is very quick and easy to use."
The Teal range is ideal for outdoor event-based businesses or for farm shops. Whether you need to support existing facilities or need warm water hand washing on the move, the fully portable sinks can be set up in seconds and no plumbing needed.