Third generation farmers diversify into rearing goats
Friday, March 22, 2019 - 11:15
With goat meat tipped as a future food trend, third-generation farmers James and Lucy Hewison are diversifying into rearing their very first herd of Boer goats at their tenant farm on the Englefield Estate in Berkshire.  
The couple's investment last year in 10 breeding does, four doelings, four bucklings, and a breeding buck called Bruno is currently in the process of doubling as kidding gets underway. The farm – Hartley Court Farm – is situated near the village of Three Mile Cross to the south of Reading. It was originally a dairy and arable farm when James's grandfather first became a tenant in 1953.
Today the couple look after a 40-strong herd of Aberdeen Angus suckler cows and their calves, and two pedigree Angus bulls alongside 214 hectares of wheat, barley, poppies and grass at Hartley Court Farm and on the neighbouring Manor Farm, also owned by the Estate.  They are also contract farmers for the Estate's 111-hectare Great Lea Farm.
Goat meat makes up around 60% of the red meat consumed worldwide yet is one of Britain's lesser consumed meats despite being rich in protein and low in cholesterol. As with lamb, the meat is ready at six months old.
Tipped for the mainstream food market in BBC Good Food magazine's food trend predictions for 2019, goat dishes are on the menus of some British restaurants, although not yet widely available in supermarkets.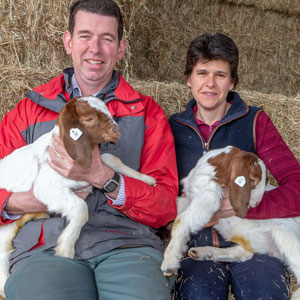 Encouraging goat meat onto the tables of British households will help minimise the number of male goats being euthanised in the UK each year, estimated at around 100,000, because of the lack of demand for meat compared with the demand for goats' milk and cheese.
"Goat meat is a growing market and farmers across Britain are always having to think of ways to create other sources of income, and we've got four children, so we're always thinking about farming for the future," explained Lucy. "I came across an article about goat rearing around the same time as I was due to leave my job as a teaching assistant in a local primary school, and it seemed the perfect way to use our traditional farm buildings."
In addition to restoring the buildings for the goats, the farmers also had to become accustomed to their idiosyncrasies. "We knew a lot about cows, sheep and horses, but absolutely nothing about goats," continued Lucy. "So, it's been a very steep learning curve! 
"The perception is that goats want to eat everything. This isn't true, although they do like to try and eat things you don't want them to. It's been quite a challenge to find them exactly what they like to eat in addition to grass. We tried out different types of hay and found a particular type of haylage that they like.
"And they're escapologists, so we've had to do some serious fencing too because they'll try and get out if they can."
Lucy added: "Goats love routine, and if you deviate from it they get a bit cross! They have such brilliant characters; they're fun, kind and gentle, and love a cuddle. You do get attached to them. We make sure they have the best life possible."