Thursday, April 11, 2019 - 14:25
A world full of Luxury safari tents, furnished lodges and the fastest service. That is what you will get from Outstanding. The leading safari tent supplier can take care of everything. From the moment you ask them for advice to the moment the installation is complete. They lift camping to a higher level and will make sure your guests get a well-deserved vacation. 
In a period of just four years Outstanding has taken up a leading position in the relatively new world of glamping. They're designing and producing all safari tents, glamping lodges and furniture themselves. And the results have been exceptional. Their safari tents and lodges can already be found in nearly 45 countries.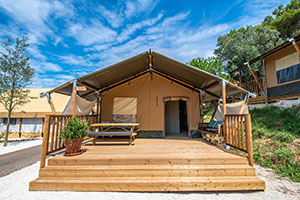 Camping with the luxury of home
Glamping (glamorous camping) is camping in a tent with the luxury of a house. A fully equipped safari tent with private bathroom, kitchen with refrigerator and comfortable beds. According to James and Suzie King, Outstanding's UK glamping advisors, it is the future. "Glamping is becoming more and more popular each year. More campsite owners are discovering glamping and eagerly anticipating this. Glamping is an experience and that is exactly how we sell it. By completely unburdening our customers, we set ourselves apart from the competition. We deliver a total concept with complete equipment, even transport, construction, lighting systems and a heating system. The campsite owner does not have to worry about it."
High quality standards
It all started when they became aware of the increasing demand for luxury vacations in safari tents. But they noticed it wasn't always easy for campsite owners to meet this demand. That's why they launched Outstanding. They started their venture by manufacturing tents abroad. However, they soon took matters into their own hands and started designing and producing the tents and furniture themselves. It was the only way to ensure they always meet their high quality standards.
Worldwide
Once they've developed their first safari tent, things took off rapidly. It was the start of a period of growth, many development and expansion. Nowadays, the supplier offers no less than 7 different types of safari tents, in various sizes available. They have sold their tents to nearly 45 countries already. Which can be found all over the world: France, Italy, England, Croatia, Mexico, Iran, Brazil and Australia. They are a trendsetter in every country with the ambition to grow into a global brand.
The Outstanding safari tents have gone from strength to strength over the years and have a lifespan of 10 years. And with a lifespan of a decade, customers hardly ever need to worry about their safari tents and lodges! And that makes the initial investment all the more worthwhile.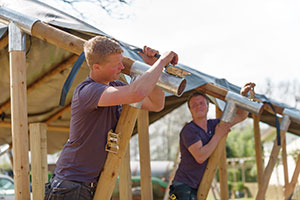 In order to maximize this lifespan, Outstanding only manufactures the safari tents from the very best materials. That means using wood that has been preserved to a quality that has gained KOMO approval from SKG-IKOB, the premium Dutch certification organisation for the building and real-estate sector; TenCate canvas, which is both extremely strong and resistant to mould; PVC roofs that protect against all weather conditions; and galvanised-steel links that will keep your tent upright all year round. 
Since the safari tents and lodges are located throughout the world, they must deal with all weather conditions. Therefore, all tents are winterproof and resistant to strong winds and even storms. Snow frames and fire-retardant Campshield fabrics are also available.
Glamping is here to stay
The demand for glamping continues as the need for comfort and unique experiences increases. Looking back on all the positive developments of the past few years, we can safely conclude that glamping is not just a trend. Glamping is definitely here to stay! 
Consumers want a unique experience, with the comfort of a home. Today's tourists prefer to spend money on memory-making experiences. Like a unique glamping experience in a safari tent or lodge.
Because the market is so dynamic, resilient, growing and innovation has become more important than ever. It is necessary to stand out and to attract the attention of today's tourist. With safari tents and glamping lodges you can differentiate yourself from the masses. For Outstanding it is highly important to keep innovating as well, to stay ahead of the trends and new models on the market. By listening closely to their clients, they keep up with changing wishes and stay inspired. 
UK Glamping advisors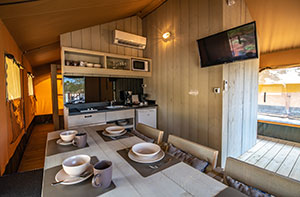 Without question the market demand for safari tents will continue to grow. With the demand for Glamping holidays in the UK, and the rapid rising trend for the Great British holiday, Outstanding wanted to improve their services last year by appointing James and Suzie King as their UK Glamping advisors. Outstanding strongly believes in low threshold communications when it comes to advising their customers. And say personal contact is indispensable to fulfil the promises they make on supporting their customers from advice to turnkey delivery.
Working on something new
To continue playing a leading role, the company finds it important to keep developing constantly. They go big, anticipate, listen, take risks, and dare to hit the throttle. That is how the best things happen according to James and Suzie. Therefore Outstanding launched three new models last year. Three new tents that encompass everything you might expect from the leading safari tent supplier. According to James and Suzie the new models are strong, innovative, functional and of high-quality. 
"And we are already working on something new and innovative. We can't say anything about this yet, but I highly recommend keeping an eye on us, because more information will follow later this year!" says Suzie.
Curious about all Outstanding developments, have a question or in need of advice?
020 3769 4999