Make 2020 the year you changed your life - farm diversification expert hosts book launch
Thursday, December 12, 2019 - 11:32
Farm diversification takes guts – and a lot of encouragement from people who can support you. No-one knows this more than Celia Gaze, the author of farm diversification book Why Put a Bow Tie on a Llama?
On January 10th, 2020 Celia is hosting a book launch on her family farm – The Wellbeing Farm in Lancashire – which she turned into a popular rustic wedding venue.
For those considering diversification in 2020, this event is a must-attend. Farm Diversity magazine representatives will also be attending – so come along and meet like-minded people who will leave you inspired and well-informed as you begin your diversification journey!
More than a book launch! 
This free-to-attend event will be chaired by award-winning journalist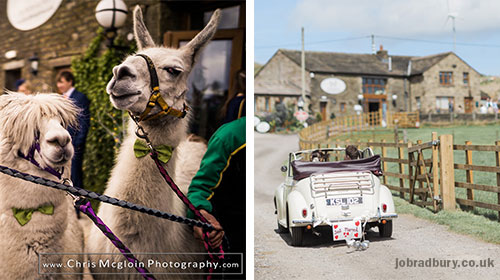 Chris Maguire – former editor of North West Business Insider.
It will focus on a true tale of resilience and entrepreneurship. Celia Gaze said 'goodbye' to her life as a stressed-out NHS director and 'hello' to her new life running the quirky wedding venue – complete with llamas in bow ties!
Her journey was filled with highs and lows, and now her passion is to help other business owners to succeed.
Celia celebrates the new decade by releasing a book about her journey: Why Put a Bow Tie on a Llama? This is also a guide on how to run your business successfully both as you diversify and once the business is up and running.
To kickstart 2020, Celia will host this business lunch with a difference, where a collection of entrepreneurs will be sharing their personal stories of their life-changing moments and how and why they grabbed control of their destiny.
PANEL GUESTS:
Celia Gaze: After overcoming severe work-related stress, Celia Gaze decided it was time to change her life and do something completely different; so she transformed a neglected farm into award-winning wedding venue The Wellbeing Farm – where this event will be held.
Dave Bolton: After surviving a near-fatal motorbike accident, Dave Bolton became a World Kickboxing Champion – only to be diagnosed with terminal cancer. Now he's taken the fight to the cancer and is helping others by sharing his story.
Caroline McEleney: Caroline is one of the most respected names in hospitality, having been the Director of Hospitality Sales at Manchester City and the Director of Venue Sales and Marketing at rivals Manchester United. However, she gave it up to launch her own business and has gone from strength to strength.
Lorna Davidson: Redundant and with a young family to support, Lorna Davidson launched her business – Tactical Solutions – from her garden shed before selling it for millions of pounds. Her retirement lasted four hours… before she decided to do it all again and launch her second business RedWigWam.
Cody Gapare: During her treatment for breast cancer Cody Gapare lost her hair, eyebrows and eyelashes. While she found the wigs worked well, there was nothing on the market for her missing eyelashes – so she launched her own business C- Lash.
David Beharall: A former professional footballer with Newcastle United who took early retirement from football at the age world of 27 and became an entrepreneur as managing director of digital agency CandidSky.
What: Make 2020 the year you changed your life
Where: The Wellbeing Farm, Edgworth, Lancashire
When: Friday 10th January, 12pm-2pm
Cost: Free
Booking: Register via Eventbrite