Rosebud Ranch, offering alpaca yoga and much more!
Rosebud Ranch have recently diversified into a very successful alpaca farm, offering plenty of activities for visitors including Alpaca Yoga and Tai Chi. Farm Diversity had the opportunity to talk to Lucy Aylett, to delve into how they created this delightful farm and made it into exactly the venture they had dreamt of... 
'Rosebud Ranch is an alpaca farm in North Devon, recently known as 'the wellness ranch', and it is our home along with the Rosebud Alpacas. They are quality alpacas which we breed for fleece, we sell the yarn from our prize winners and we make/sell other alpaca related products. We also sell alpacas to appropriate homes as pets or for breeding and our herd participate in alpaca experiences. We pride ourselves on offering sessions in the alpaca's environment, ensuring our herd are relaxed and interested. Their welfare is paramount but this also provides a more authentic experience to our guests.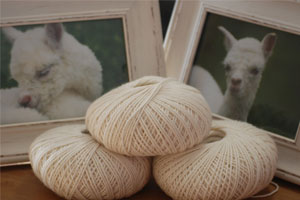 We have only very recently moved to Devon and have been in business for just a year. It has been a very busy time setting up and building our dream, we still have a long way to go but we have achieved so much already. When we purchased the land we also inherited some pregnant sheep so they have been on the land for longer than us, we continued to breed them and now they are part of the Ranch. We keep bees and our hens free range with the alpacas who do a good job of guarding them. We also have 2 cats for pest control, a Northern Inuit dog who participates in our photography days, he seems to be the star of the show being the breed used for the dire wolves in Game of Thrones and we also have 2 horses.

I used to run a pet care business and I found the dog walking to be very good for stress relief, the same is with my horses and just 'being' with them. I very quickly discovered I had the same experience with our herd of alpacas and it was right on my doorstep with amazing views, so it made sense to put together some wellness sessions with them incorporating exercise, meditation and mindfulness all within the herd in their paddocks. I contacted a yoga instructor and we put Alpaca Yoga to the test. Alpacas are very sensitive animals, they are prey animals and are very well tuned into their surroundings and your energy, so the combination hit the spot and we hit the headlines. We were featured in The Daily Mail, Fox News, BBC News, ITV This Morning, Devon Live and more. The Yoga sessions last for 90 minutes, followed by refreshments in the paddock and photographs.  We became the first farm in the UK to introduce Alpaca Yoga. We are now also the first with our Alpaca Tai Chi with a qualified instructor and our Alpaca Connection sessions which are Reiki, healing and meditation with a reiki master. We also offer Alpaca Relax which is just chilling with the herd and having a cup of tea, Alpaca Camera which is our photography sessions guided by a professional photographer, Alpaca Artist which is about connecting you to the land and nature with a local artist, Alpaca picnic which is great for families, Alpaca Amble with our halter trained boys which is an alpaca experience designed for photo opportunities and a stroll around the land/paddock, Alpaca tent which is similar to wild camping in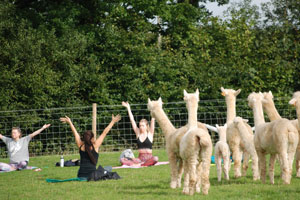 the field next to the alpacas, Fields of Gold which is an alpaca & peruvian crystal workshop and many more planned, so stay tuned...!

We aim to provide a peaceful and stress free environment for all and to be as green & sustainable as possible, we grow our own veg using alpaca manure which we also sell as it doesn't need to be rotted down first. We are off grid & our power comes from the use of solar panels, this runs everything on the farm from our home to our electric fencing. Our alpacas are kept in bio secure paddocks and we do not take our alpacas off of our land, all animal experiences are held on the Ranch and hopefully we offer a little bit of something for everyone.'

If you fancy trying out alpaca yoga, or would like to find out more information about Rosebud Ranch, head over to their website: www.rosebudalpacas.co.uk