The Farm Business Innovation Show 2019
Friday, April 12, 2019 - 09:45
The Farm Business Innovation Show is Europe's leading event for farmers, landowners and estate owners looking to find creative new ways to generate revenue from their land and need expert advice to make it happen! Voted 'Trade Show of the Year' by the EN Awards in 2016, the show is returning to NEC in Birmingham on the 6th & 7th November 2019 and is still completely free to attend.
Diversification in the world of farming and rural business is the act of finding new streams of income that can be added in order to increase income and keep the traditional farm running. These revenue streams can range from family attractions to weddings or even renting your outbuildings as office space... The opportunities are endless! 
This event provides rural entrepreneurs with the inspiration, resources and advice needed to diversify, innovate and succeed through 200 seminars, 500 inspiring exhibitors, case studies of people who have been there and done it, and expert advice on everything from planning permission to setting up a website. 
Given the current economic climate, it has never been more relevant or important to maintain stability in business and diversification is the best way that rural business owners can not only achieve stability but increase income and see profits grow. As a recent survey by Farm Business Innovation reveals, 74% or rural business owners surveyed are more likely to diversify due to Brexit. Of course, it takes more than a good idea and determination to deal with the realities of a change like Brexit, luckily we have experts who can help you navigate these waters. Oliver McEntyre, Barclays' National Agricultural Strategy Director, will be discussing the process of funding and financing diversification efforts, while Edward Phillips at Luton Hoo Estate will be highlighting the fact you don't have to be big to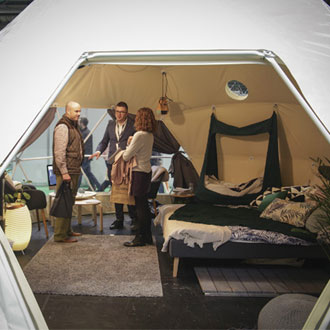 diversify. We are all aware of how much uncertainty there still is surrounding Brexit, despite the large impact it can and will have on the farming sector, so it is important to make sure you are prepared for all eventualities. As a result, Christopher Price, the Director of Policy and Advice at the CLA, will be delivering a seminar exploring exactly what you need to know to ensure this vital preparation. There is no better place to find out how to make sure that your rural business not only survives, but thrives under these changes. 
Along with these experts, the Farm Business Innovation Show has brought together some of the biggest and best names in the industry. John Kirkpatrick--the agricultural manager for poultry and eggs at TESCO--will be speaking about working with retail to drive a successful diversification opportunity, and Henry Dieudonné-Demaria of Defra will be delivering an insightful seminar on the future of environmental land management. All these experts are just the tip of the iceberg and the seminars are just the beginning. The Farm Business Innovation Show will also feature live debates, exclusive product launches and almost unlimited networking opportunities. 
Tickets to the event are free and you can register via www.farmbusinessshow.co.uk. Your free ticket will also give you access to our sister shows which run alongside Farm Business Innovation: Country House Business Innovation, Family Attraction Expo, Holiday Park & Resort Innovation and Sport, Leisure Food & Beverage Expo. As always, the shows bring together all the tools, resources, and advice in order to put your rural business on the map in one of the most vibrant, dynamic, and competitive sectors in British business.