Keeping ahead of the trends in rural diversification
Friday, May 24, 2019 - 15:37
Becka Wright, Creative Manager at Appetite Me, on entering into rural diversification in a seemingly saturated market…
With more and more land owners and farmers looking into diversifying their land and business in order to secure a more financially stable future it can leave you questioning what new ways can you expand your business, especially when so many markets seem over saturated. However, there are new trends and ideas being developed all the time, below we talk about the trends we are seeing in farming diversification.
Experiences
Over the last few years we have seen an increase in the demand for people wanting experience days where they can either try something completely new or something they can share with friends and family. These experience days could cover anything from food and drink experiences, foraging and farmhouse cooking days, a day in the life of a farmer, bush craft and living off the land Bear Grylls style. Being a farmer may seem an everyday task to you but for someone with no knowledge in this it can be a very fascinating experience. Have a think about your passion and skills and what you would enjoy teaching to people.
Glamping
With everyday life being very stressful and busy with work, home life and the constant stream of information and content trying to grab our attention, a lot more people are turning to glamping holidays as a way to disconnect from their everyday lives and reconnect with nature. We have heard many people thinking that the glamping market is fairly saturated however this is not the case. With many new ideas for types of accommodation and business add-ons in the terms of services and activities, you can still find your niche in a busy market and create a successful business.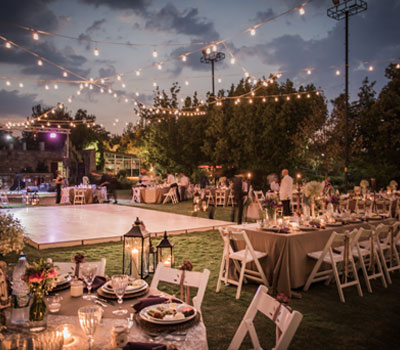 Weddings
Over 70% of couples are stepping away from the traditional church weddings for more rustic settings. With this increase in demand for unconventional wedding settings this is a great time for you to profit from a £10 billion industry. However, to make this a success you need to make sure that you create a romantic setting that can be used both day and night time. Also is there a way can you create wedding packages that make life easier for the bride and groom or additional add-ons and services, are you able to do something a bit different and unique with your space and venue. Don't forget someone's wedding day is meant to be one of the best days of their lives so it needs to be special!
Events
Again this links back to the demand of people wanting more experiences. Events are a great add on to your current business as you can fit them fairly easily around your current commitments. Events can be anything from pumpkin and harvest festivals, to live music and festivals, to outdoor cinemas and seasonal, food and craft fairs. This is a great way to network with local businesses and play an active role in the local community, at the same time as bringing in additional revenue.
It is worth noting when deciding on how you diversify your business you need to take into consideration what will work best for you. Things you need to think about include how will your new project fit around your current lifestyle and work commitments, what is currently in the local area and is there a market for what you want to do. And most importantly, is it something you are passionate about, as to make it a success you are going to need to enjoy it, as you are going to have to invest your time, money and energy to get it off the ground.
It's important in this current climate to find your own niche when setting up a new diversification business, thinking outside the box will stand you in good stead when developing your new business. Think about ways you can offer something different to customers and clients and how you can create your own twist on things. With so many people setting up their own businesses it is important you make yourself stand out from the crowd.
But most importantly have fun and really enjoy. It's an exciting new chapter.
See appetite.me.uk for more rural diversification inspiration and advice.