Government funds £22million farm technology projects
The government has today announced £22million in farm technology funding to support farmers in reducing waste and boosting crops in an ecological way, leading to calls from industry experts for more training on how to achieve such goals.
Science Minister Chris Skidmore said in a statement today that the new technologies adopted will help UK farmers cut down on pollution, minimise waste and produce more food.
The first 31 projects to benefit from the government's dedicated Transforming Food Production Challenge were revealed as part of the £90million Industrial Strategy Fund to help businesses, researchers and industry to transform farming and meet the needs of the growing population.
This investment is a key part of the government's modern Industrial Strategy, and commitment to boost R&D spending to 2.4% of GDP by 2027.
Greener, cleaner processes for the agricultural sector will help towards the government's commitment to a target of net zero greenhouse gas emissions by 2050.
The 31 projects will benefit from a share of £22.4million to develop their innovative projects, with industry partners contributing a further £8.8 million. 
The projects include: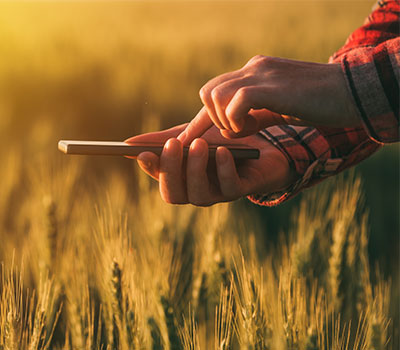 • Rootwave, in Warwickshire, awarded a £690,000 grant to use electricity instead of chemicals to kill weeds via roots, avoiding damage to crops
• Tuberscan, in Lincolnshire, awarded £391,000 to develop ground-penetrating radar, underground scans and AI to monitor potato crops
• a project in Middlesex, which will use a £233,000 grant to help cows graze without farmer supervision by placing sensors on farm gates that open and close automatically, allowing cattle to graze freely
• aiScope, a project based in Sheffield, where a £1million grant will be used to apply AI and analysis to tackle cereal weed Blackgrass – potentially saving farmers £580million a year.
Mr Skidmore said: "The UK is a global leader in technological innovation, as well as being the first major economy to introduce plans for a legally binding target to reach net zero emissions and end the UK's contribution to global warming entirely by 2050.
"The projects announced today will ensure we lead the way in supporting our vital farming industry, delivering high-quality food for consumers while reducing the wider environmental impact.
"This is a key part of our modern Industrial Strategy, investing in ground-breaking projects, creating highly skilled jobs and providing a cleaner, greener future for generations to come."
Farm technology requires adequate training
Rob Edwards, Business Development Manager of Agriculture at Kubota UK, said the move was "positive" but highlighted the need for the relevant training to be delivered as the future of the farming landscape changes, adding: "There is no denying that technology is the future and failing to adopt new processes aided by technology, only means that the farming sector will be left behind, impacting on productivity levels and ultimately their profitability.
"For the government's investment to have the biggest impact and for technology to be used more widely across the industry, it will be important to communicate to farmers the evidence of the long-term positive effects of technology on farm performance.
"One way of doing this will be to enhance the industry's capabilities and skills when it comes to using technology. This is likely to enhance their trust in it, and in turn, they are therefore more likely to adopt it.
"Not only will this allow farmers to future proof their businesses, but help to meet the needs of a growing population."